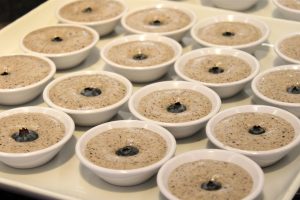 World renowned Chef Wolfgang Puck said it best – "Cooking is like painting or writing a song. Just as there are only so many notes or colors, there are only so many flavors – it's how you combine them that set you apart."
This summer, 16 chefs from some of your favorite establishments got together to make a little music with blueberries, and not just fresh ones. Frozen, freeze-dried, powdered, pureed and juiced forms showed that blueberries aren't a one-trick pony.
Inventive and wow-worthy dishes resulted from three days of experimentation in the kitchen of the Culinary Institute of America's Greystone Campus. Chefs from Disney, Bonefish Grill, Delta Airlines and Whole Foods, among others, found inspiration in blueberries' multiple forms, versatility, matchless flavor and nutrition.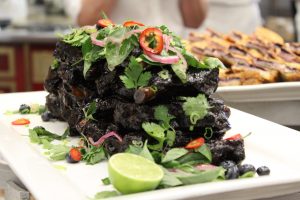 Home cooks and expert chefs seeking a switch-up, look no further for inspiration:
"Blue Eggs & Beef" (may sound odd but it tastes delicious)
Lamb Sausage with Blueberry Mustard
Blueberry 5-Spice Dry-Rubbed Ribs with Carrot, Ginger & Blueberry Hoisin
Blueberry Sausage Scotch Eggs
Blueberry Royale Custard
Blueberry Basque Piperade (a fresh take on a classically Spanish dish)
Keep your eyes open – and your palettes adventurous – for some innovative blueberry dishes at your favorite restaurants this season.
Have you experienced a restaurant win or a successful at-home experiment? Share your pics with us on Instagram, Facebook or Twitter! #Yum