Let's admit it. Finding a sitter for date night, especially Valentine's Day, isn't always realistic. Fortunately, it doesn't have to be just about you and your partner – it's a wonderful opportunity and reason to slow down and celebrate the love among your family and create memorable experiences, together. We've collected just a few of our favorite ideas for celebrating with the kiddos: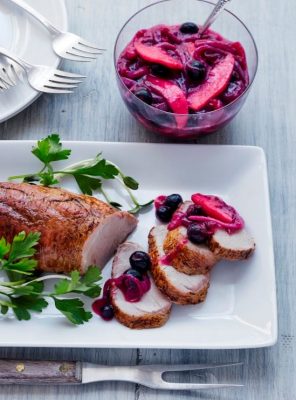 Breakfast in bed – who doesn't love it? A treat normally reserved for mom will have the kids smiling and feeling special in no time. And have fun with it – make some blueberry pancakes in the shape of a heart.
Play Valentine's hide and seek. Have everyone write down a Valentine or get a gift and hide it somewhere inside, then let the games begin!
Spread the love. Spend the afternoon baking and decorating cookies for neighbors or friends and deliver them with the kids.
Put together a Valentine's Day photo shoot for the family. Have the kids craft some silly props like streamers, signs and balloons and get snapping. You'll keep the kids busy crafting and end up with some adorable family pictures.
Make it a family date night. Take everyone out for a nice dinner or cook a special meal at home. Go with a family classic or try something new like pork tenderloin with blueberry compote. Don't forget to finish it off with a blueberry rum punch for mom and dad and blueberry ice cream for the little ones.
Celebrate your love. Go around the table and take turns saying something you love about one another.
Snuggle in for family movie night – don't forget the candy conversation hearts and popcorn!
Just because you're spending Valentine's Day together as a family doesn't mean it has to be all about the kids. After they're tucked in for bed, spend quality one-on-one time with your partner and reminisce on the special day that you shared. And for your post-dinner toast, try the fuchsia-hued blueberry lavender cocktail.
Are you enjoying Valentine's Day with your family this year? Share your recipe ideas and activities with us on Facebook, Instagram or Twitter!