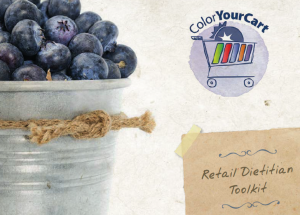 With fresh, North American blueberries flooding into grocery stores this month and those frozen at the peak of harvest always available, there's no time like the present to pay special attention to these little blue dynamos!
As part of the U.S. Highbush Blueberry Council's ongoing effort to help more Americans make little changes in pursuit of healthier lifestyles, we developed a toolkit for use by retail dietitians and other health professionals.
We hope this kit will make it easy and fun for you to share information about blueberries with your customers!
Toolkit contents include:
Blueberries & Health – A Summary
Blueberry Basics
Supermarket Tour Sheet
Kids Supermarket Tour Sheet
Kids Activity Sheets
Media Segment Guide
Social Media Tips
Recipe Cards
To request the kit or for more information, please contact Joanne Tehrani, MPH, RD at: [email protected]. Once received, please feel free to print, share and customize any of these materials for use in-store or online.