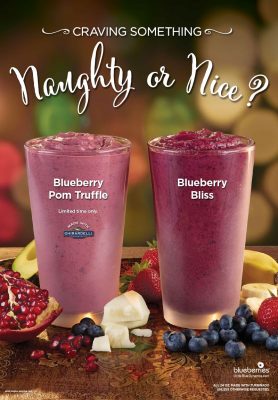 Blueberries in a smoothie – it's a match made in taste bud heaven. Mouthwatering little blue dynamos may add a burst of sweet and tangy flavor to smoothies but they're also packed full of nutrition to keep your diet on track. That's why Tropical Smoothie Café is featuring two "Naughty and Nice" blueberry smoothies this holiday season – the "Nice" is fan-favorite Blueberry Bliss, and the "Naughty" is limited-time-offer Blueberry Pom Truffle.
We spoke with Tropical Smoothie Café's product development lead, Chef Lake to get some behind-the-scenes details on how he creates these addicting concoctions, available at all locations nationwide. Here's what he had to say.
Where do you get your inspiration for new menu items?
There really isn't one place that I draw inspiration from. Most of the time my dishes come through memorable experiences or the fact that I'm always paying special attention to what's going on around me.
What, in particular, inspired Tropical Smoothie Café to create these new limited time offer blueberry smoothies?
When we conduct consumer taste tests we ask which ingredients are the most appealing, and the blueberry kept rising to the top. Naturally we decided to get working on blueberries!
How do you go about developing new smoothie recipes?
Our team (which is the best) has a broad brainstorm where after tons of fun we come up with a direction we want to go in. From there, whether it be an item designed to hero an ingredient, or one to hero a season or even a particular flavor profile, I get to work piecing together a recipe!
Naughty or Nice – which do you anticipate to be the crowd favorite, and why?
I hate these games because it's really a shot in the dark and frankly I hate being wrong. They're both just awesome smoothies but, because I'm being forced, I would have to say the Naughty. I think our consumer is starting to trust us with putting together ingredients that they haven't tried together or couldn't get anywhere else… I just don't think too many people are whipping up white chocolate, avocado and blueberry concoctions around their homes and this thing is dangerously addictive! If they try it, even though it's 'Naughty', it's tough not to come back to.
In your opinion, what is it about blueberries that make them applicable to both a nutritious smoothie and a decadent one?
You truly get the best of both worlds with blueberries. They are a sweet, great-tasting fruit that are packed full of nutrition.
What do you like about working with frozen blueberries (also known as IQF or individually quick frozen blueberries)?
You can get them anytime of the year and they taste great!
What's another unlikely, but delicious, pairing for frozen blueberries you've always wanted to try?
A sauce to go with steak or pork, but don't tell anyone!
Why do you think your customers will be excited about the two blueberry smoothies?
Because they have told us they want them! We keep our ear to the ground and are always listening to what our customers want.
Many do not think of blueberries during winter – was there a specific reason you decided to highlight the two blueberry smoothies during this time of year?
It was all because of the Naughty smoothie. Once we tried it, the development train came to a halt and we put it through taste test right away. We had considered saving blueberries for the summer but we couldn't let this smoothie collect dust on the shelf!!!
What's the secret to a great smoothie?
Getting it at Tropical Smoothie Café of course.
When will you be trying out these delicious new Tropical Smoothie Café menu items? Share your favorite Smoothie from Tropical Smoothie Café with us on Facebook, Twitter and Instagram using the hashtag #LittleChanges.