Results without the heavy lifting? That's one bandwagon we don't mind being on.
We're teaming up with Crunch to prove that small = mighty. (Because it's already summer – we've gotta make it snappy!)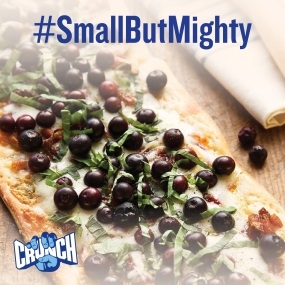 Crunch Personal Trainer Jennifer Margulis says: "Salads are a good option for a healthful meal. Just don't drench them in high-calorie dressing! Instead, add blueberries and peaches for flavor and celery for a satisfying crunch. A Blueberry Peach Celery Salad is an easy-to-make light lunch that you can eat 30 minutes before you work out!"
Sweet tip, Jennifer! (Pun intended.)
Your summer salad addiction awaits – get the recipe through one simple click!
BONUS #SmallButMighty FREEBIE ALERT:
Since Crunch <3's Blueberries, they want you to score some sweet deals. Here's how to cash in:
5-Day Pass & Free Personal Training Session: Click here to redeem
30-Day Trial to CrunchLive.com, Crunch's online workout platform (free for Crunch members): Visit CrunchLive.com and enter promocode BLUEBERRY to redeem.
Pass valid for 5 consecutive days only. Must be local resident & show valid, local ID. Personal Training session must be used while 5-day pass is being used. Must cancel within 24 hours or forfeit session. Must be first time guest, 18 years or older or accompanied by an adult. Some restrictions apply. Offer cannot be combined with other offers. Pass not applicable to Crunch Essential locations. Crunch Live offer trial valid for 30-days only to new Crunch Live members. Credit card required to register. Credit card is not charged until after promotional period ends. Regular billing rate of $9.99/month resumes after the promotional period. Cancel anytime. ©2016 Crunch IP Holdings, LLC ©2016 Crunch IP Holdings, LLC