Spring is finally here! Bring those lush green colors of the season to your table with this month's Smoothie Saturday – a Blueberry Green Tea Smoothie adapted from The Fresh Method. Soothing green matcha powder and fresh juicy blueberries whirl together with almond milk for a creamy and wholesome way to start the day – and the season!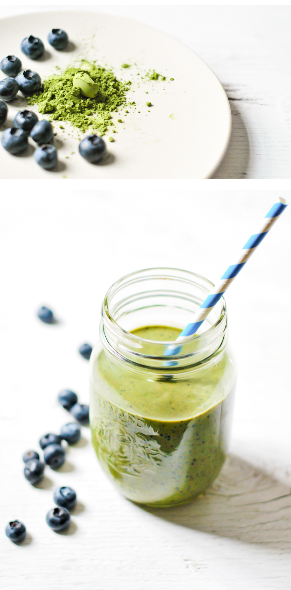 2 teaspoons matcha powder
Handful blueberries
1 banana
1/2 avocado
1 teaspoon pure vanilla extract
1/2 cup almond or soy milk
1 teaspoon chia seeds
1/4 teaspoon chlorella or spirulina powder (optional)
Blend all ingredients together in blender until desired consistency. If you find the smoothie to be chalky, simply add more milk or water.
Yield 1 Smoothie