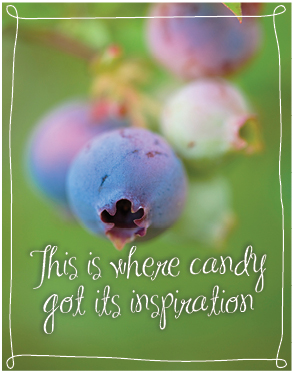 Blueberries combine the sweet taste of candy and the health values of fruit, but they also have culinary versatility that can improve many dishes.
These little blue dynamos added a touch of sweetness to everything from appetizers to main dishes at the Blueberry Health Research and Culinary Luncheon on Wednesday, June 25. Sponsored by the Blueberry Council, the luncheon provided a venue to discuss research on the health benefits of blueberries.
Chefs, researchers and dietitians gathered in Chef David Bouley's Kitchen in New York City to experience the world of blueberry-inspired cuisine. Courses prepared by Chef Bouley himself included a blueberry-marinated tuna, Chatham Bay sea scallops with a blueberry and Balinese pepper crust, followed by chilled blueberry soup and a blueberry sorbet. Guests topped off their meal with Clafoutis with an apricot coulis and a refreshing blueberry gelato.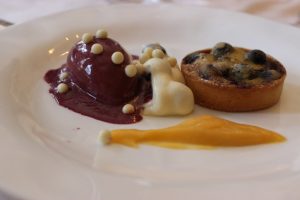 Rebecca Scritchfield, a registered dietitian, health fitness specialist and founder of Capitol Nutrition Group, shared tips on maintaining a healthy lifestyle and Eric Rimm, ScD of Harvard School of Public Health, presented his research on blueberries' anthocyanin components while guests enjoyed their meal.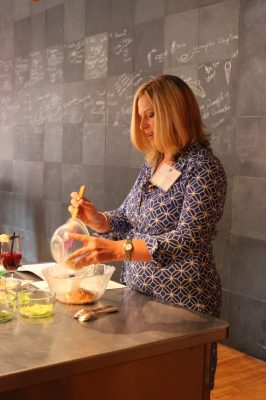 Scritchfield explained that only 33 percent of Americans are eating enough fruit each day and one way to combat that is to think about decorating your plate with color – throw blueberries or other fruit in yogurt, salads or add them to desserts to easily increase your servings of fruit.
To stay on track making healthy choices, Scritchfield stressed, it's important not to give up what you love. Continue eating your favorite foods, but pair them with fruits and vegetables to keep portion size in check. Be sure to carve out one hour each week for your own personal "happy hour." Let this time be used for anything that puts a smile on your face – go for a walk, get your nails done or have lunch with a friend. Just don't let your efforts to get physically healthy effect your mental and emotional health.
For more health tips or information on the Luncheon, click here.