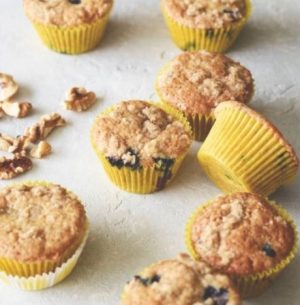 Blueberries and walnuts – it's a match made in foodie paradise. Just like your go-to fruit, walnuts are simple and snackable, and have this really natural flavor about them that make you feel good about what you're eating. And bonus, they deliver that satisfying crunch you crave without the guilt.
Fast facts about walnuts*:
¼ cup shelled halves or pieces=
4g of protein
2g of fiber, meaning you'll stay fuller longer
Good source of magnesium and phosphorus
*Pair with the health benefits of blueberries, and you've got yourself a winning team (go, you!)
Quick tips for tasty pairings and treats:
*The nutty crunch of walnuts and blueberries' sweet/tart combo can kick any meal or snack up a notch
While you're busy snacking on the go, whipping up some of these delicious recipes or experimenting with your own creations, snap a pic and share it on Instagram with the hashtag #IHeartWalnuts for a chance to win $5,000. Did we hear right? YES, it's exactly like Christmas in July, thanks to our partnership with California Walnuts.
Now ready … set … snap … and ENJOY!