By Dr. Sonali Ruder, The Foodie Physician, in partnership with the U.S. Highbush Blueberry Council.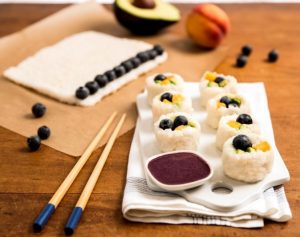 As a mom and doctor, it's no surprise that I'm starting to think about healthy lunch ideas for my daughter as the first day of school nears. My gut tells me that many of you are in the same boat, so I've partnered with the Blueberry Council to share my tried and true steps for packing a lunch that fills the kids up, fuels their day and doesn't get tossed in the trash.
The lunch that we pack for our kids contributes to a significant portion of their daily nutrients. If the thought of shopping for and packing a nutritious, well-balanced lunch that your kids will actually eat seems intimidating or stressful, don't worry!
Here are my tried and true tips on how to do it:
1. Try to include as many of the food groups as possible. A well-balanced lunch should fill your kids' bellies, fuel their brains, and give them long-lasting energy to get them through their afternoon classes.
It should include the following:
Fruits– Pack a variety of whole or bite-sized fruits like blueberries, apple slices, honeydew melon or clementines. Blueberries are an ideal snack for the lunch box because they're tasty, nutritious – they are an excellent source of vitamin C and are a good source of fiber. Plus, they are fun to eat, and require no peeling or chopping!
Vegetables– Include colorful vegetables like broccoli florets, carrot sticks, cherry tomatoes or bell pepper strips.
Proteins– Choose a variety of protein foods like poultry, meat, seafood, beans, tofu and nut butters.
Grains– Try to make at least half of their grains whole grains. Good options include whole grain bread, crackers, pasta, cereals and granola bars.
Dairy– Include milk, yogurt or cheese to provide calcium.
Beverages– Encourage your kids to drink water or milk and limit the amount of juice or sugary beverages like soda or sports drinks, which provide empty calories.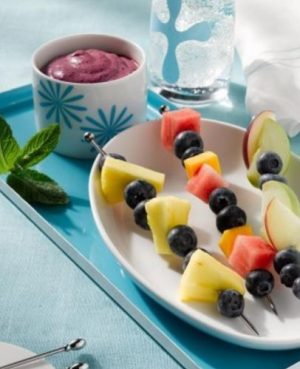 2. Get creative! Kids are a lot more likely to eat something if it's fun and colorful. It can be something as simple as incorporating the primary colors into their meal (think blueberries, apples and bananas), or cutting their sandwich into a fun shape with a cookie cutter. Make rainbow fruit kebabs by skewering colorful fruit on skewers (use cocktail straws or popsicle sticks for younger kids). Instead of the usual turkey sandwich, try making turkey pinwheels using whole wheat tortillas and vegetables like shredded carrots or baby spinach. Fruit "sushi" rolls are a nice alternative to the usual peanut butter and jelly sandwich. Kids love dipping things into sauces so try including a yogurt or almond butter dip with fruit or a black bean or avocado dip with vegetables.
3. Get your kids involved. One of the best ways to get your kids to eat the lunch you pack is to get them involved in the process. Take them shopping with you and let them choose nutritious ingredients. Then let them help prep and pack lunch the evening before. I'm a big advocate of getting your kids in the kitchen with you. When you cook with your kids, not only are you teaching your kids an important life skill, you're also fostering independence, helping to instill good eating habits, and putting them on the path to lifelong good health.
4. Get a fun, easily accessible lunchbox. There are lots of fun lunchboxes available on the market today. I really like the bento-style lunchboxes, which have several different portioned compartments that are all easily visible and accessible. It makes it easier to pack a well-balanced lunch. Plus, they are environmentally friendly, eliminating the need to pack plastic baggies. If your child's lunchbox is coming home full, it may just be that they don't have enough time to open and eat everything. This is especially true for preschoolers.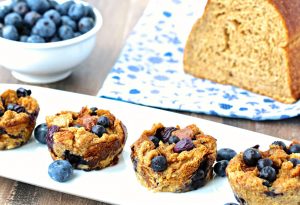 If you have a little extra time on your hands, my Blueberry French Toast Muffins are the perfect addition to your child's lunchbox. They also make a great portable breakfast or after school snack. Made with whole grain bread, eggs, and blueberries, and lightly sweetened with maple syrup, these muffins will satisfy your kids' hunger and provide them with the energy for learning and fun. I take all of the ingredients that you find in French toast and make a portable version by baking them in a muffin tin. And the best part is that you can make a whole batch of them on the weekend and you're set for the whole week!
Blueberry French Toast Muffins
Makes 12 muffins
Ingredients:
4 large eggs
1 cup milk, any type
3 tablespoons pure maple syrup
1 teaspoon cinnamon
2 teaspoons vanilla
12 ounces whole grain bread, cut into small pieces (about 6 cups)
1 cup fresh or frozen blueberries
Optional toppings: maple syrup, powdered sugar
Directions:
Preheat oven to 350°F.
Whisk the eggs, milk, maple syrup, cinnamon, and vanilla together in a large bowl. Add the bread and stir to combine well. Fold in the blueberries.
Spray a 12-cup muffin pan with cooking spray. Spoon equal portions of the bread mixture into the muffin pan, filling the wells almost all the way to the top.
Bake in the oven for 20-25 minutes until muffins are puffed up and cooked through. Remove from oven and cool. Serve muffins plain or top them with a little bit of maple syrup or powdered sugar.
I know very well that life is hectic at this time of year, and we can all use ALL the tips we can get! What do you do to prepare nutritious lunches for your kids? Are there any seriously easy go-to meal items you just can't live without? Post and tag #BlueberryLife to let us know what you're planning.
To get more recipes and tips from Dr. Ruder, check out her website thefoodiephysician.com and follow her on social. Twitter: @FoodiePhysician; Instagram: @thefoodiephysician; Facebook: @TheFoodiePhysician; Pinterest: The Foodie Physician
Nutrition Facts (one muffin): Calories 125; Fat 2.7g; Saturated fat 1g; Sodium 167mg; Carbohydrates 18.2g; Fiber 2.3g; Sugar 7g; Protein 6.5g