Look, we know your holidays are already filled to the brim with potlucks, parties and happy hours. We're not here to tell you that your classic champagne toast isn't enough this year, but if you are looking for just a little something special for your next get together, here's a simple list of sparkling cocktails, with simple ingredients for a simply perfect party.
Blueberry bellini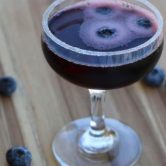 AKA the "I forgot I signed up to bring a drink to the party and need to make something out of the ingredients in my fridge" cocktail. We've all been there. Frozen blueberries, simple syrup and Prosecco make this a bellini that will have your friends raising a glass to you.
Maple blueberry sparkling cocktail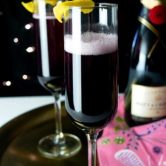 A few unique ingredients combine in this cheers-worthy cocktail that will have you sipping your way to the bottom of the flute and your friends asking how you knew blueberries and maple syrup would be such a complimentary flavor combination. We'll keep this our little secret.
Blueberry fig sparkler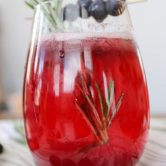 Fig jam isn't just for toast and biscuits anymore! A classic holiday ingredient gets an exciting new role in this blueberry fig sparkler. The recipe yields a batch of four drinks, but we wouldn't blame you if you kept this one for you and your significant other. Because you will be wanting seconds.
Blueberry gin and sage punch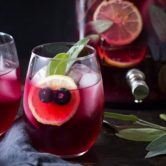 Gin + sage + blueberries + lemon juice. Add some sugar, and Prosecco, and you've got the recipe for a holiday punch people won't stop talking about. You decide whether it's a blessing or a curse when you get asked for the recipe all night!
Sparkling blueberry lime tequila punch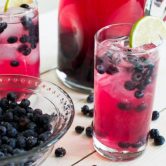 And for the sparkling cocktail finale, we bring you a drink featuring tequila and lime. To some it may sound summery but to us it tastes like a bright and bubbly explosion of holiday cheer. This punch serves 12, so with any luck, you won't be stuck in the kitchen making refills all night. Just sit back and savor the sweet, sweet success.
Now trust us, we know some of these recipes sound too good to be true (and they are so good), but give 'em a try and we'll prove just how easy it is to impress your guests with your new found mixology skills. Can't decide which one to make? Take this quiz and we'll make the decision sweet and simple.
Bonus for making the great decision to read this post?
A chance to win a $250 Visa® Gift Card!