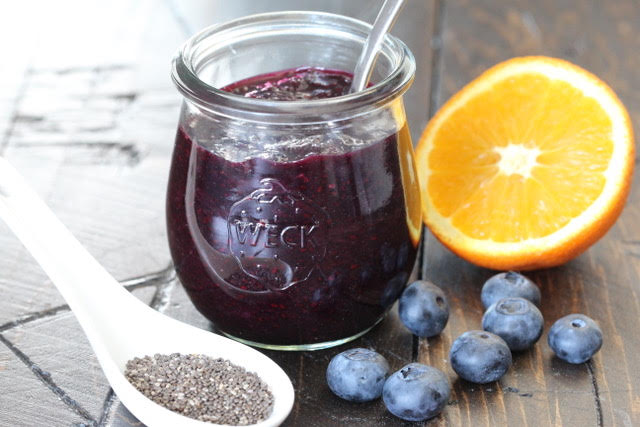 By Dr. Sonali Ruder, The Foodie Physician, in partnership with the U.S. Highbush Blueberry Council
Now that summer is coming to an end, one of the things that I love to do this time of year is make homemade jam. It's a great way to preserve the sweet flavor of my favorite summer flavors, and it's actually really simple to do. Traditionally, making homemade jam takes a lot of time and equipment. In order to get jam to thicken properly you need to add a thickening agent like pectin along with a large amount of sugar. My Blueberry Chia Jam, however, only takes about 15 minutes to make and it uses the natural gelling properties of chia seeds, which are packed with nutrients.
The benefits
I love using blueberries in this delicious jam. Why? Blueberries are not just packed with flavor, they're also packed with healthful goodness! One serving (one cup) is a good source of fiber and vitamin C and has only 80 calories. Fiber aids in digestion, keeps you regular and helps keep you feeling full. Plus, diets rich in foods containing fiber, such as some vegetables and fruits, may reduce the risk of heart disease.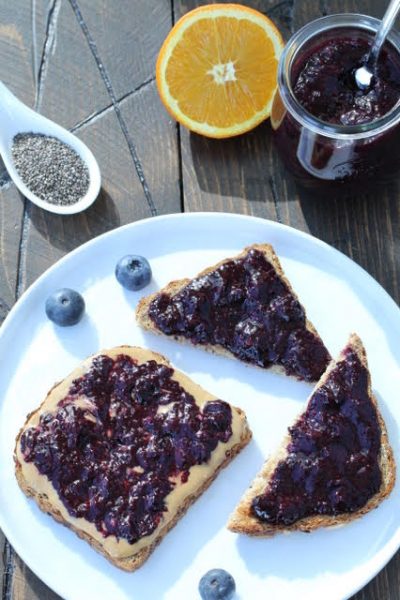 How to make it
Simply stir blueberries, orange juice, chia seeds and a sweetener of your choice together in a saucepan and let it simmer away on the stove. Because the chia seeds act as a thickening agent for this quick and easy jam, you can use much less sugar than traditional jam. As it cools, it will continue to thicken. Then you can store it in a jar and keep it in the refrigerator to enjoy for a couple of weeks. (See full instructions below!)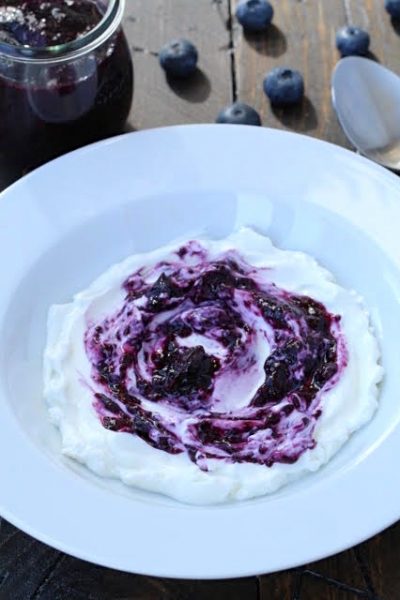 How I enjoy it
This Blueberry Chia Jam is perfect for back-to-school season because you can use it in so many different ways. I love to swirl it into a bowl of Greek yogurt or oatmeal for a delicious and hearty breakfast. It also makes a great alternative to store bought jelly on a peanut butter and jelly sandwich. I'll be packing plenty of these in my daughter's lunchbox over the next couple of
weeks! For a sweet after dinner treat, you can even spoon some of the jam on top of your favorite ice cream. The possibilities are endless!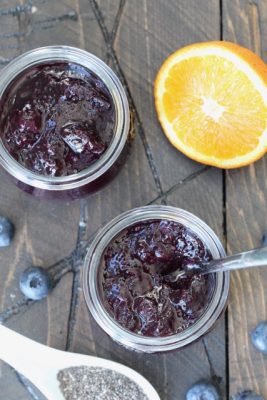 Blueberry Chia Jam
Makes about 1 ½ cups
Ingredients:
1 pound fresh or frozen blueberries
1 tablespoon fresh orange juice
2 tablespoons maple syrup, agave or sweetener of your choice
3 tablespoons chia seeds
Directions:
Heat the blueberries and orange juice together in a saucepan over medium heat. Simmer 7-8 minutes until the berries start to soften and break down. Mash the berries with a fork, leaving some chunks. Stir in
the maple syrup and chia seeds and cook for a few more minutes, stirring often. Turn the heat off and let the mixture cool. As it cools, the jam will thicken. Store jam in an airtight container in the refrigerator for up to 2 weeks.