Thanksgiving Day has come and gone, your refrigerator is over flowing with leftovers and you over purchased your ingredients – just in case that tentative guest decided to stop by.
With so many great fixings at your fingertips, don't just settle for repeat after repeat of Thanksgiving dinner. With a bag of frozen blueberries on hand, you can piece together simple, creative meals that will leave you and your family satisfied without having to make yet another trip to the grocery store.
Use up some of that turkey in a fresh twist on a classic turkey sandwich. Just add a bit of blueberry mayo and you'll have a tangy, delightful lunch that's sure to please the whole family.
Whip up a batch or two of this tangy blueberry chutney or quick blueberry-cranberry relish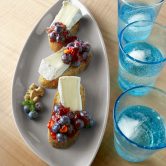 and store it in mason jars for family and friends to take home (bonus: it's a great way to send them home with leftovers and help clear out your fridge!). These frozen blueberry recipes are easy to make with no chopping, slicing or peeling and they're great over pot roasts, salads and sandwiches.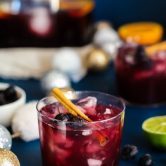 Finally, when the guests are gone, the kitchen is clean and you have a moment to yourself, sit down and de-stress with fresh takes on holiday drinks. Use the leftover rum from the pecan pie to create a blueberry spiced rum punch or try a blueberry cinnamon old fashioned for a modern update on a classic.
However you use them, cooking with and using frozen blueberries is simple and adds a kick of flavor to your meals, from quick breakfasts to hearty lunches and all the drinks, snacks and desserts in between.
Do you plan to create something new with your leftovers? Share your ideas and pictures with us in the comments section below or on Facebook, Twitter and Instagram.
For more tips and ideas for cooking with frozen blueberries, read on!