Happy National Nutrition Month®! This annual campaign, created by the Academy of Nutrition and Dietetics, emphasizes the importance of making informed food choices and developing healthy eating and physical activity habits. In honor of this year's theme, "Celebrate a World of Flavors," I'm excited to bring you my Blueberry Farro Salad, which incorporates a variety of unique ingredients and flavors. While salads can get a bad rap for being boring, this hearty salad is anything but bland! This globally inspired recipe is packed with bright colors, flavors and textures. I incorporate fresh, Mediterranean-inspired ingredients into a delicious and healthful dish with a secret ingredient – blueberries! This sweet-tart fruit adds an extra pop of flavor and nutrition!
I'm always exploring new ways to make salads interesting and satisfying. I especially love grain-based salads because they're hearty enough to be a complete meal. Grain-based salads are like regular salads, but are bulked up with heart-healthy whole grains like quinoa, farro, barley or brown rice. They're hearty and nutritious, and will keep you feeling full and satisfied thanks to their fiber content
My Blueberry Farro Salad features a colorful combination of baby kale, blueberries, beets, pecans, and feta cheese tossed with whole grain farro and a bright homemade lemon dressing. It will transport your tastebuds to the Mediterranean! Indeed, this simple and delicious recipe fits well in a Mediterranean-style diet. The Mediterranean diet is an eating plan that incorporates the traditional flavors and ingredients of countries that border the Mediterranean Sea. It emphasizes plant-based foods such as whole grains, vegetables, legumes, fruits, nuts, seeds, plus herbs and spices. Heart-healthy olive oil is the main source of fat and lean protein is consumed in moderation with an emphasis on seafood.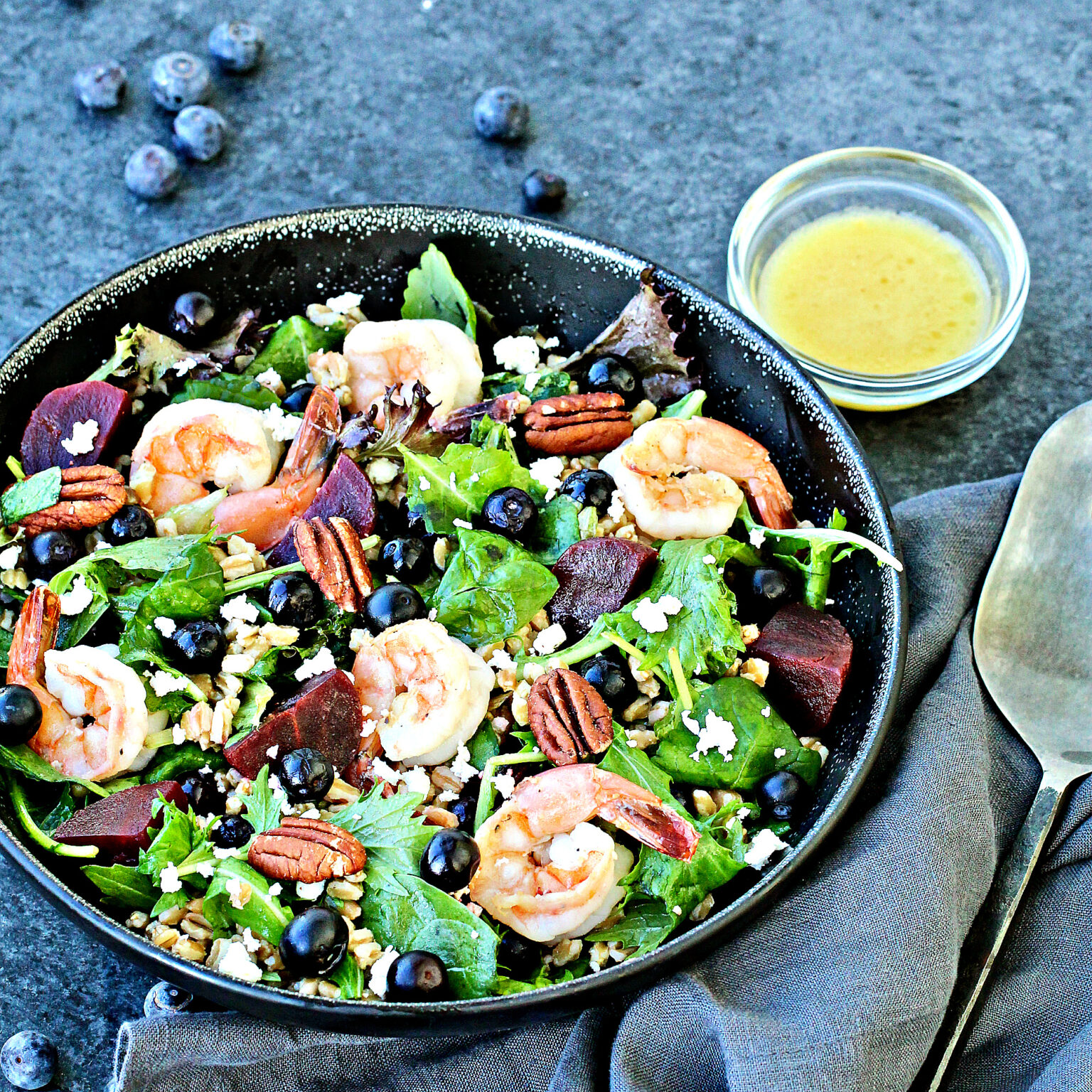 However, when it comes to healthy eating, there's no one diet that's right for everyone. What's most important is following an eating plan that fits your lifestyle and is full of tasty, satisfying food. With 90% of Americans not meeting their recommended intake of fruits and vegetables, it's important we focus on filling half of our plates with colorful produce and the remainder with lean proteins, whole grains and low-fat dairy. According to the 2020-2025 Dietary Guidelines for Americans, vegetables and fruits, like blueberries, are associated with a reduced risk of many chronic diseases and may be protective against certain types of cancers. Even small changes can have a big impact on your health!
I love tossing a handful of blueberries into my favorite dishes for a quick pop of flavor and nutrition – no slicing, peeling or chopping necessary! Blueberries, whether fresh or frozen, also pair well with a wide variety of ingredients and can be used in both sweet and savory dishes. I use a boost of blue in everything from salads and entreès to breakfast dishes, smoothies and desserts. And the best part? They're available year-round!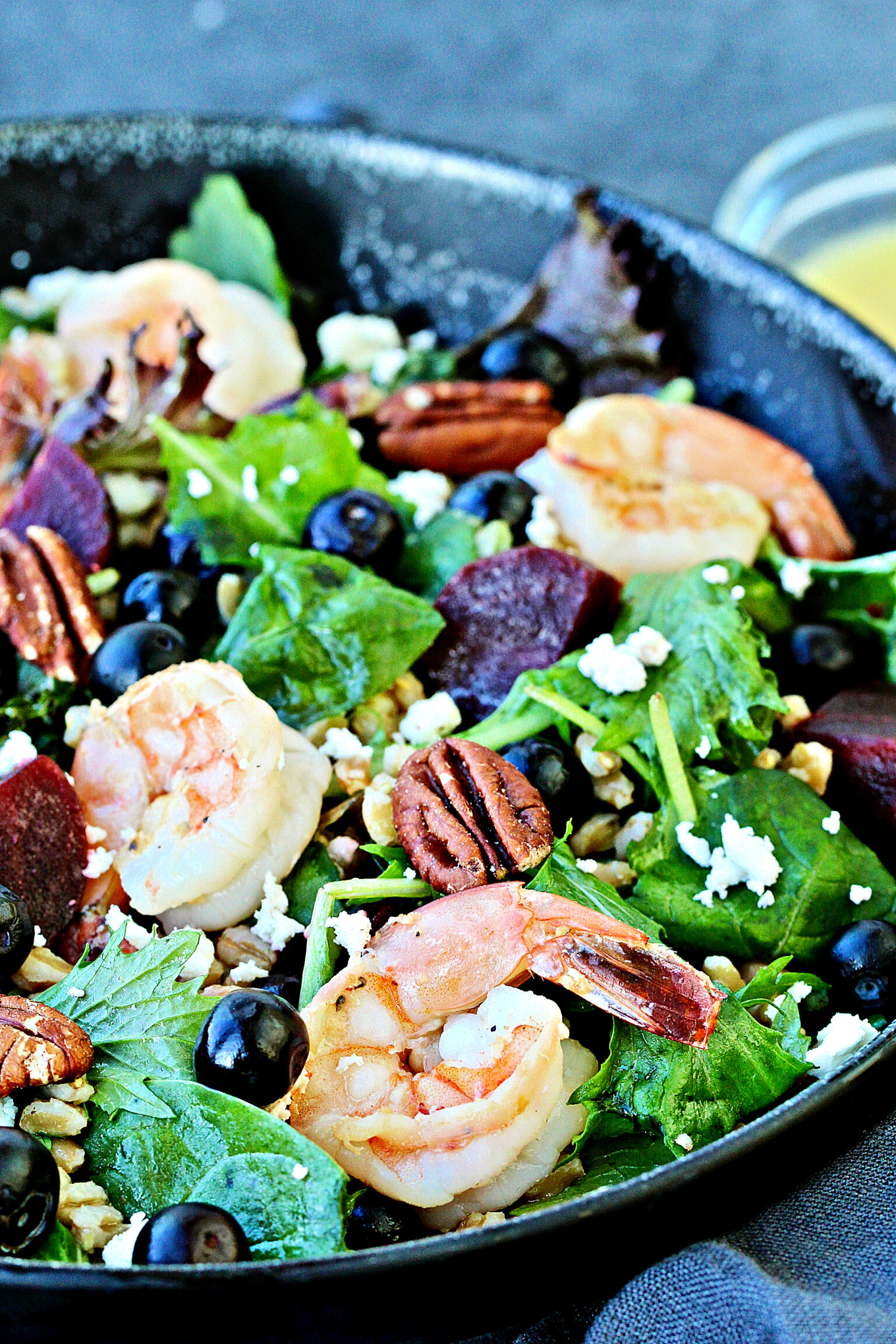 Why blueberries? A one-cup serving contains just 80 calories but delivers a variety of essential nutrients including fiber, vitamin C, vitamin K, and manganese. Fiber helps support heart health and digestive health, helping you feel full and stay "regular." Vitamin C is an antioxidant that helps support a healthy immune system and protect cells from free radical damage. Blueberries also contain phytonutrients (plant-based compounds) called polyphenols. Among these are anthocyanins which give them their beautiful blue color. And, a growing body of evidence shows that blueberries can help improve overall health when incorporated into a healthy lifestyle. There is a growing body of research examining the positive role blueberries play in eating patterns that support heart health and brain health and offer health benefits that help manage diabetes.
My Blueberry Farro Salad is a great way to get started on the path to healthful eating. It is the perfect dish to whip up to commemorate National Nutrition Month and celebrate globally inspired flavors!