Our favorite time of year is here! Every season is blueberry season – we can enjoy all forms all year long, after all – but peak season here in North America is special. Growers are harvesting those ripe, juicy blueberries from late spring into the early fall.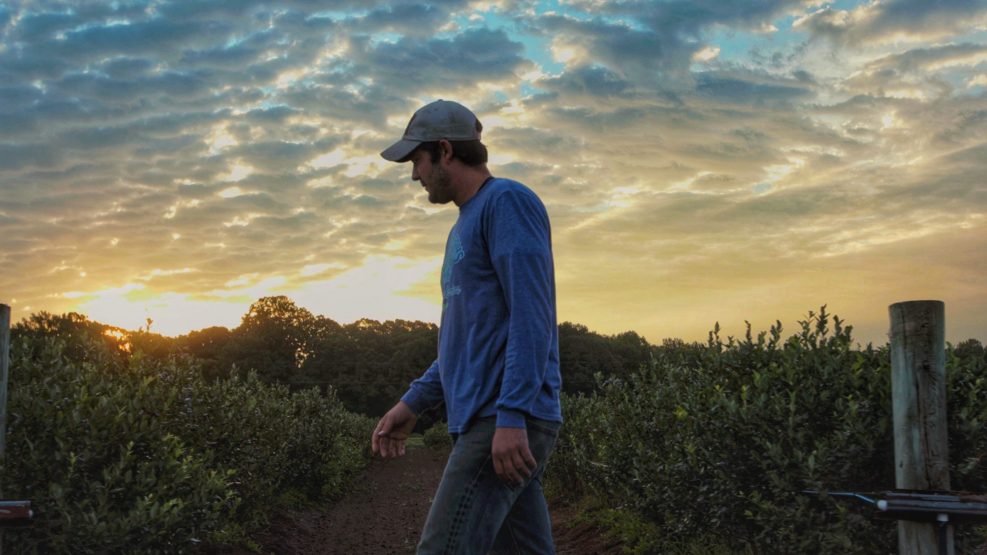 Outside, it's all bright sun, blue skies and gentle breezes. In the kitchen, it's game on for cooking and baking with a rainbow of fresh produce – including the essential boost of blue. You can stock your fridge, freezer and shelves with blueberry goodness as part of your regular grocery haul, or you can get out and get your hands (a little) dirty.
That's right: it's time for a field trip to the farm! Handpicking your own blueberries is fun for the whole family, and many U-pick farms are now open for the summer. Just be sure to verify the hours and safety precautions at your local farm before you go. Pro tips: wear easily washable clothes and don't forget the sunscreen.
Share Your Adventures!
If you visit a nearby U-pick farm or make any – or all – of these yummy blueberry recipes, please share your snaps on Instagram, and be sure to tag @blueberries and #grababoostofblue so we can see, and maybe even feature your post in our Stories! On our pages, you'll find even more recipes, tips and hacks to grab a boost of blue in every season.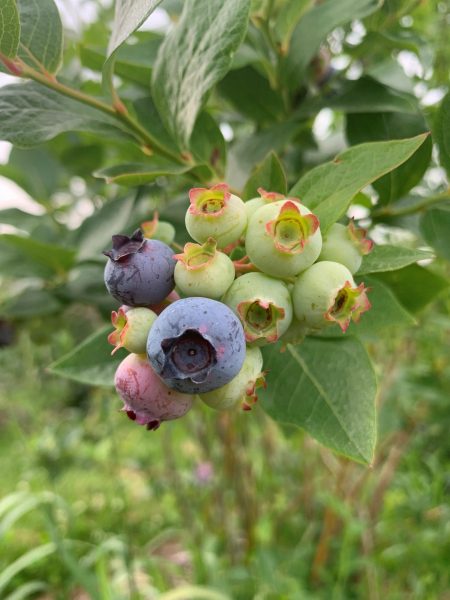 Fresh-from-the-Farm Recipe Recommendations
The only "challenge" with peak season is what to do with all these simple, delicious, healthy blueberries – and that's not really a problem at all. If you have leftover fresh blueberries (big if!) after all your snacking and kitchen adventures, just freeze and enjoy later.
However, we have a few recipes to tempt you, hand-picked by some of the passionate blueberry growers working hard to bring you your boost of blue every day.
Grandma D's Blueberry Buckle
DeGrandchamps Blueberry Farm
South Haven, Michigan
"Our family's favorite recipe – we make it fresh in our farm market in the summer for our guests to enjoy!"
Get the recipe: Grandma D's Blueberry Buckle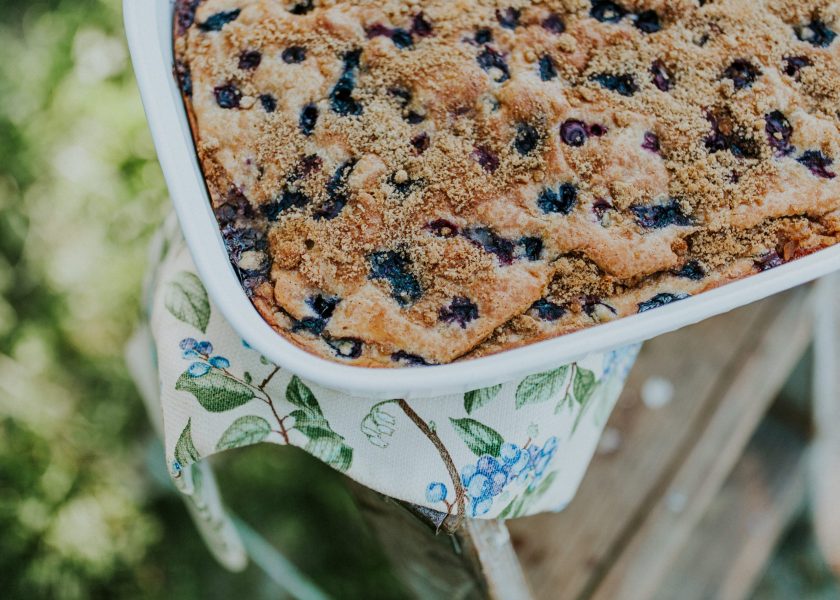 Blueberry Swirl Cheesecake
The Blueberry Barn
Alma, Georgia
"Georgia Blueberries go so well with cheesecake. This is a must-try recipe!"
Get the recipe: Blueberry Swirl Cheesecake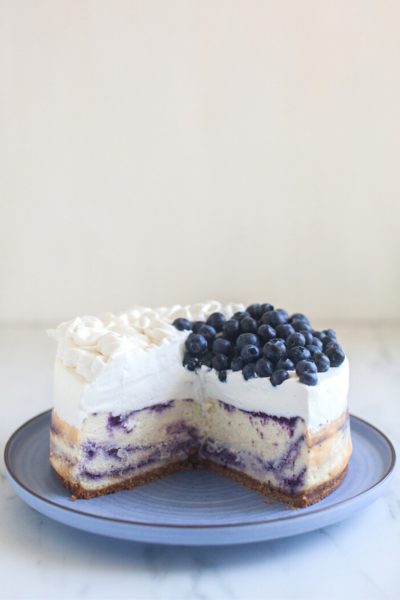 Blueberry Sour Cream Coffee Cake
Brookside Farms
Gobles, Michigan
Get the recipe:
Cake: 1 cup butter, 1 cup sugar, 2 eggs, 1 teaspoon vanilla, 2 cups flour, 1 teaspoon baking powder, 1 teaspoon baking soda, 1 teaspoon salt, 1 cup sour cream, 1 cup blueberries
Topping: 1 teaspoon cinnamon, 1/3 cup brown sugar, 1/4 cup white sugar. Mix together.
Cream butter and sugar together. Beat in eggs one at a time. Add vanilla. Mix in dry ingredients. Add in sour cream. Gently fold in blueberries. Grease a 9×13 baking dish. Sprinkle a bit of the topping on the bottom of the pan. Spread mixture in the baking pan. Sprinkle top of batter with remaining topping. Bake at 350 degrees for 45 minutes.
(Fresh) Blueberry White Chocolate Brown Butter Cookies
Atwood Family Farm
Eustis, Florida
"Like blueberry cheesecake in a cookie form. All the teachers at my kids' school come running when I bring these to the break room!"
Get the recipe: Blueberry White Chocolate Brown Butter Cookies
Blueberry Cheesecake
Woodland Enterprises Berry Farms
Zeeland, Michigan
"WARNING: This is addictive! Hands down favorite blueberry dessert of our family, friends and u-pick customers."
Get the recipe:
(makes a 9×13 pan)
Crust: 2 cups graham cracker crumbs, 1/4 cup sugar, 1/2 cup margarine, melted
Mix together and press into bottom of a 9×13 pan, reserving 1/4 cup for topping.
Filling: 8-ounce block of cream cheese, softened, 2 cups powdered sugar, 12 ounces Cool Whip®, 1 box instant vanilla pudding, 1 cup milk, 2 pounds fresh blueberries
In a large bowl, mix cream cheese and powdered sugar with electric mixer until crumbly. Add Cool Whip® and beat until smooth. In a separate bowl, whisk together pudding and milk. Add to other mixture and beat until smooth (approx. 2 minutes). Fold blueberries in by hand. Pour over graham cracker crust. Top with remaining crumbs. Refrigerate at least 4 hours before serving.
Blueberry Barbecue Sauce
Goin's Blueberry Lane
North Judson, Indiana
"Our favorite way to eat blueberries is fresh right off of the bush! We also like streusel-topped blueberry coffee cake – and blueberry barbecue sauce on ribs and chicken."
Get the recipe: Blueberry Barbecue Sauce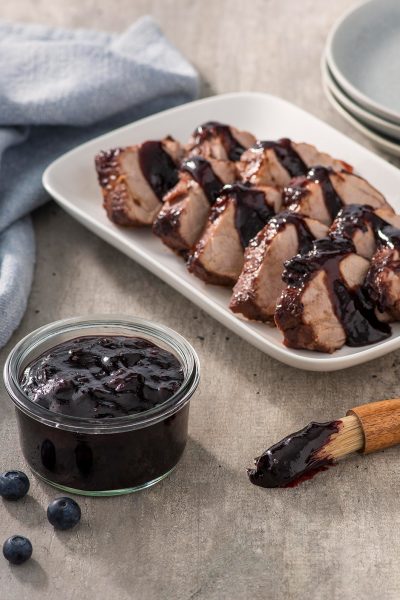 Easy and Delicious Blueberry Sauce
Bowerman Blueberries Farm & Market
Holland, Michigan
"While our favorite way to enjoy blueberries is fresh from the bush, we realize that only lasts a short while during our harvest season. One of our other ways to enjoy our blueberries is to make an easy and delicious blueberry sauce to enjoy in a variety of ways – on top of pancakes, oatmeal, cheesecake, ice cream, anything you'd like to cover with blueberry goodness! Here is a super-easy recipe I enjoy often."
Get the recipe: Easy and Delicious Blueberry Sauce
Happy eating!