Ah, summer. A time to sit on the beach, listen to the waves and enjoy the sunshine. But wait…is that really realistic for most of us? And are summer vacations always relaxing?
We know the answer's not always yes. Because packing ALL the bags, hitting the road only to sit through traffic, paying for a hotel and trying your hardest to make sure everyone is having a great time isn't all that simple.
Enter stay-cation – the simpler and sometimes necessary next-best option. Think of it as a little retreat from your everyday routine without the hassle of packing (or doing laundry). Hit the movies (drive-ins are fun), show off your putt-putt skills or check out a new-to-you museum. But what's a stay-cation without a bit of indulgence? We've gathered a handful of our favorite eats for a weekend at home that are fun to make and tasty, too.
Saturday ——————————————————————

Brunch: Unless you're starting your weekend at your favorite café (yum), kick it off with a pot of coffee, good music and some baking! Try homemade donuts, a classic coffee cake with a fresh blueberry twist or maybe a blueberry green tea smoothie to trigger that vacation zen.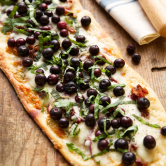 Lunch: Pizza. Flatbread. We love it all, and we know it's what you're craving. Mix it up with this savory blueberry pizza that is (literally) bursting with flavor. Topped with basil, this recipe is fresh and light and a true celebration of summer.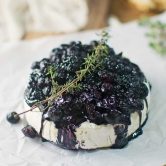 Happy Hour: It's 5 o'clock somewhere and this blueberry margarita is calling your name. Add a little balsamic baked brie with a side of crackers and you're off to a nice night.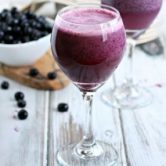 Dinner: Let someone else handle the grilling tonight while you sit back and cool down with a blueberry wine slush. Bonus points if they want to play gourmet chef and try their hand at this skirt steak with blueberry chimichurri.
Sunday————————————————————————-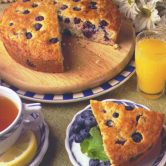 Brunch: Cake – FOR BREAKFAST. Your inner kid (and the real kids) will be thinking it's Christmas in July August.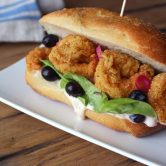 Lunch: Want to try your hand at something new? Get on island time with these shrimp po' boys and a refreshing pink blueberry lemonade.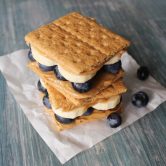 Snack: Enjoy a little back yard campout with friends and family. Try adding blueberries and other fruit to your s'mores and feel a little less guilty about your 2nd and (who are we kidding) 3rd! #yolo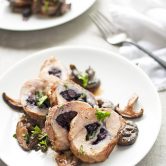 Dinner: A little white wine goes a long way in spicing up this blueberry and provolone stuffed chicken dish. One dash for the recipe, one sip for you.
Since there's no unpacking or laundry to do, wrap up your relaxing weekend with a pretty cocktail. Now if only you could hire a chef to make all of these amazing stay-cation meals for you! Which of these recipes are you trying out for a weekend at home?
Tag us on Instagram with your recipe wins (and fails…because everyone loves a good laugh).