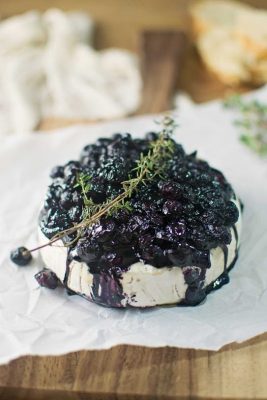 Delicious opportunity alert: Cheese Lovers Day is January 20. What better time to sharpen your charcuterie skills and build a board your entire bunch will want to gather 'round? We have a few tips to help you master the art of charcuterie, from the salty meats to the sweet treats (like blueberries).
Almost every food goes with cheese, but the real fun comes with determining which cheeses pair best with your favorites. Charcuterie boards are a great way to experiment with different flavors and textures. Like blueberries, they're a total crowd-pleaser – with minimal effort required. Grab your board and get ready for good eating and good conversation.
Present a Variety of Cheeses and Meats
This one may seem obvious, but there are key strategies to consider as you select the meats and cheeses for your board. Start with two of the most popular categories for charcuterie: whole muscle meats, such as prosciutto, and encased meats, such as sausage. Meats are generally salty, but options within these categories offer a range of flavors to try. We recommend selecting 3-7 options, and you'll need about two ounces of meat per person.
You're probably more familiar with the different categories of cheese: aged, soft, crumbly, creamy, blue, hard and more. Common cheese staples for charcuterie boards include hard cheeses like Parmigiano-Reggiano and aged cheddar or soft cheeses like Chèvre. We recommend including several varieties. One way to add extra character to your cheese spread is to incorporate a jam or chutney, like this baked brie with blueberry balsamic chutney.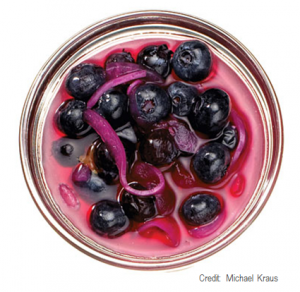 Include Pops of Distinct Flavor
"Accessorize" your board with sweet and sour elements to complement the levels of mildness or sharpness your meats and cheeses provide. Spreads, jams and jellies add a burst of rich flavor and can be layered on a baguette for an incredible all-in-one bite. Right now, we're loving this blueberry-cranberry relish recipe, which can be served warm or cold. Additionally, pickled vegetables can provide the contrast needed for milder items, just as dried blueberries or apricots can balance out sharper tastes.
For a little healthful goodness, consider incorporating fruits and veggies that are rich in vitamins and minerals, such as blueberries, which are a good source of fiber and vitamin C. Don't forget the simpler items either: honey and olives are classic components of the charcuterie board for good reason.
Don't Spurn the Crackers and Bread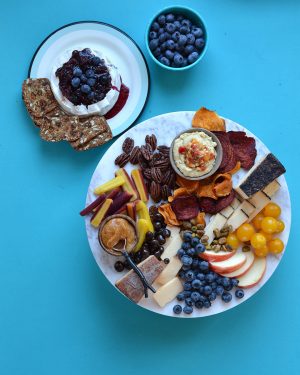 Offering a selection of crackers and/or bread adds a fullness and sense of completion to your charcuterie board. Even the most particular eater in your crowd usually can find a satisfying cheese and cracker combo!
Once you've lovingly picked your components and are assembling your board, it's best to start by placing the cheese on the selected tray, arranging the meat around the cheese. You then can fill in any pockets with your chosen "accessories" and garnish with crackers and bread around the edges.
Even the busiest food lovers can enjoy a charcuterie board with minimal effort – and lots of pleasure. Gather your bunch, build that bluetiful board and have a great time! For more inspiration for your Cheese Lovers Day festivities, along with recipes for meals big or small, visit our Pinterest page.