Guest Blog by Chef Julie Lopez, RD
Summertime means sun, fun and lots of delicious blueberries! Did you know that July is National Blueberry Month, and July 8 is National Blueberry Day? These delicious little berries can be used in a variety of recipes, both sweet and savory. Let's explore some of the best tips for utilizing blueberries in recipes. From pies to salads to jams, we have you covered. What are you waiting for? Grab a boost of blue and let's get cooking! To help, I'm providing some information and tips to enhance your experience.
Fresh or Frozen, Grab that Boost
In just 80 calories, a one-cup serving of blueberries delivers crave-worthy flavor and beneficial nutrients, including phytonutrients and four essential nutrients: fiber, vitamin C, vitamin K, and manganese. 
Fresh blueberries are available all year round. In North America, the blueberry harvest takes place April to late September. Then, during the winter, South America is experiencing summer, and international farmers are keeping grocery stores stocked with fresh blueberries between November and March. Don't forget that frozen blueberries are available all year round too!
Fresh and frozen blueberries are equally as nutritious for you. Frozen blueberries are simply a convenient and cost-effective option. They are frozen at the peak of freshness, locking in their nutrients.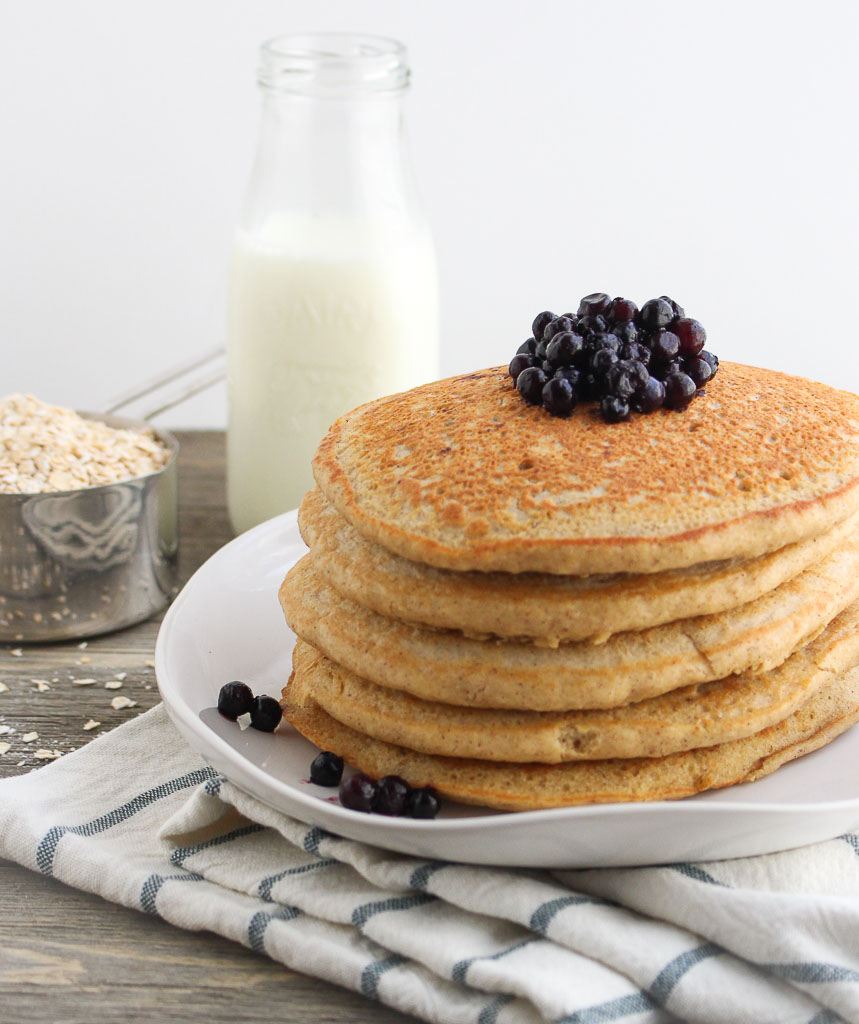 How to Shop and Store Blueberries
Fresh Blueberries
Choose berries that are uniform in size and deep purple to nearly black in color. The best berries will be dry, plump, and firm. A silvery sheen (or "bloom") is typical on blueberries.  Store blueberries in the fridge in the original plastic clamshell or in a covered bowl or container.
Chef's tip: Don't keep them in the crisper drawer where air doesn't circulate well. Blueberries will stay good for up to a week when in the general area of the refrigerator.
Once ready to use, rinse them gently and remove any stems. Place blueberries in a single layer on a dry towel to air dry or pat them dry with a clean towel.
Frozen Blueberries
Head over to the freezer aisle of your grocery store and pick up a bag of frozen blueberries. Make sure your freezer is set to the proper temperature to keep them frozen until ready to use. Utilize blueberries directly from their frozen state, or thaw and use.
Freezing blueberries yourself? Follow these steps to freeze properly.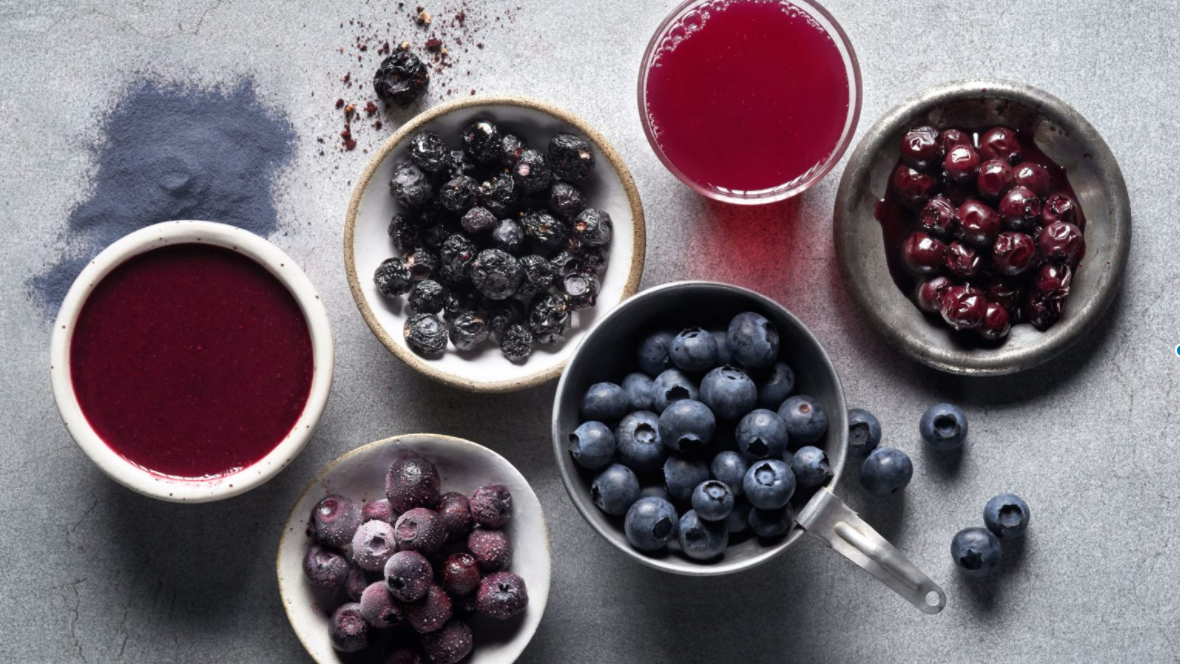 Cooking and Baking with Blueberries
Because blueberries are very perishable, do not wash them until just before eating or cooking. Here are a few chef tips: 
Dried blueberries tend to stick and clump together when added to muffins, quick bread, or cookies. Fresh blueberries don't always mix in evenly either. However, there is a quick fix to make sure almost every bite contains a blueberry. Measure out the dry ingredients in your recipe, and then whisk them together. Before mixing the dry ingredients with the liquid ingredients, remove 1 tablespoon of the dry ingredient mixture. Sprinkle that tablespoon of flour mixture over the blueberries and stir gently (un-clumping dried blueberries with your fingers if needed.) The flour mixture will keep the blueberries from sticking together in one cookie, and blueberries will be more evenly distributed in quick bread.
Don't thaw blueberries before adding them to a batter. To prevent blueberries from making greyish-green streaks in batter, keep blueberries frozen and gently stir them into a batter.
Think about your finished product. When cooking down blueberries, some of the skin will be left behind. To achieve a smoother finish for a blueberry sauce, sieve through a fine mesh strainer. For a chunkier texture, like for a chutney, don't overcook blueberries so they maintain their texture.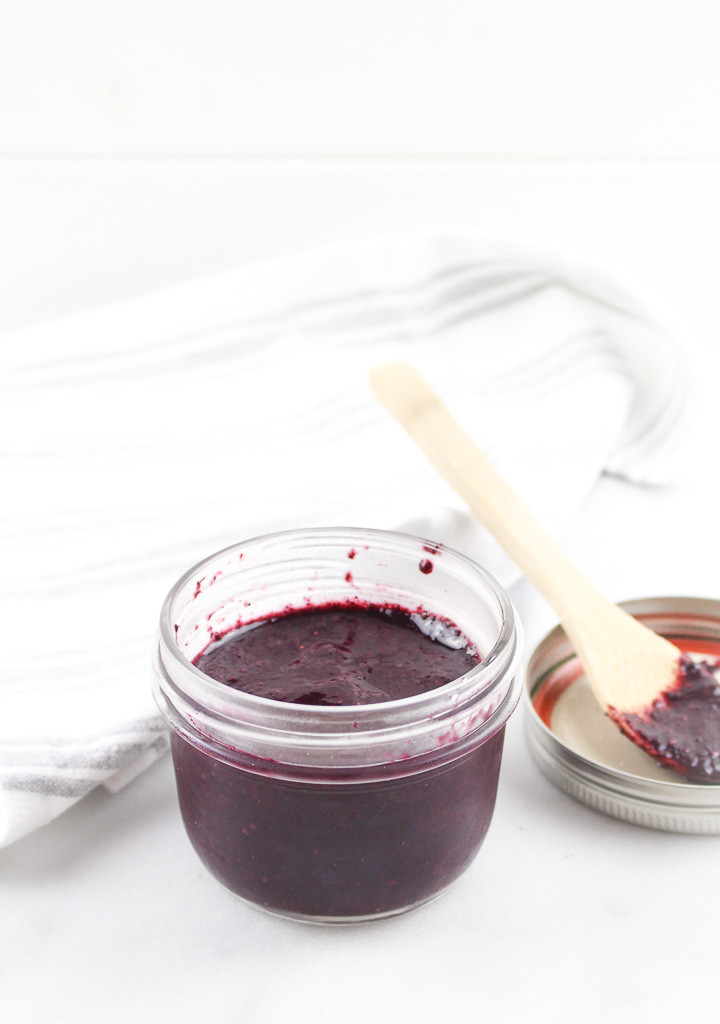 Sweet and Savory Blueberry Pairings
Blueberries have a delicately sweet, fruity flavor. According to Foodpairing® analysis, blueberries have familiar 'aromatic descriptors' like fruity (peach), spicy (vanilla), floral (rose) and citrus. The four main categories of aromas present in blueberries provide us with links to many other types of ingredients. Think outside of the box with both sweet and savory blueberry pairings.
 Add a boost of blue and pair with various cheese and nuts on your next charcuterie board.
Add a blueberry sauce to pair with pork, chicken or salmon.
Balance out the acidity of balsamic vinegar with the sweetness of blueberries, whether is it part of a recipe or a reduction.
Sweeten up BBQ sauce with blueberries next time you dine on pulled pork
Don't forget about spices and herbs. Blueberries pair well with basil, cinnamon, ginger, lavender, lemon, thyme, nutmeg, rosemary, mint, and many more! 
Want blueberry recipes for any occasion or daypart? Visit blueberry.org/recipes.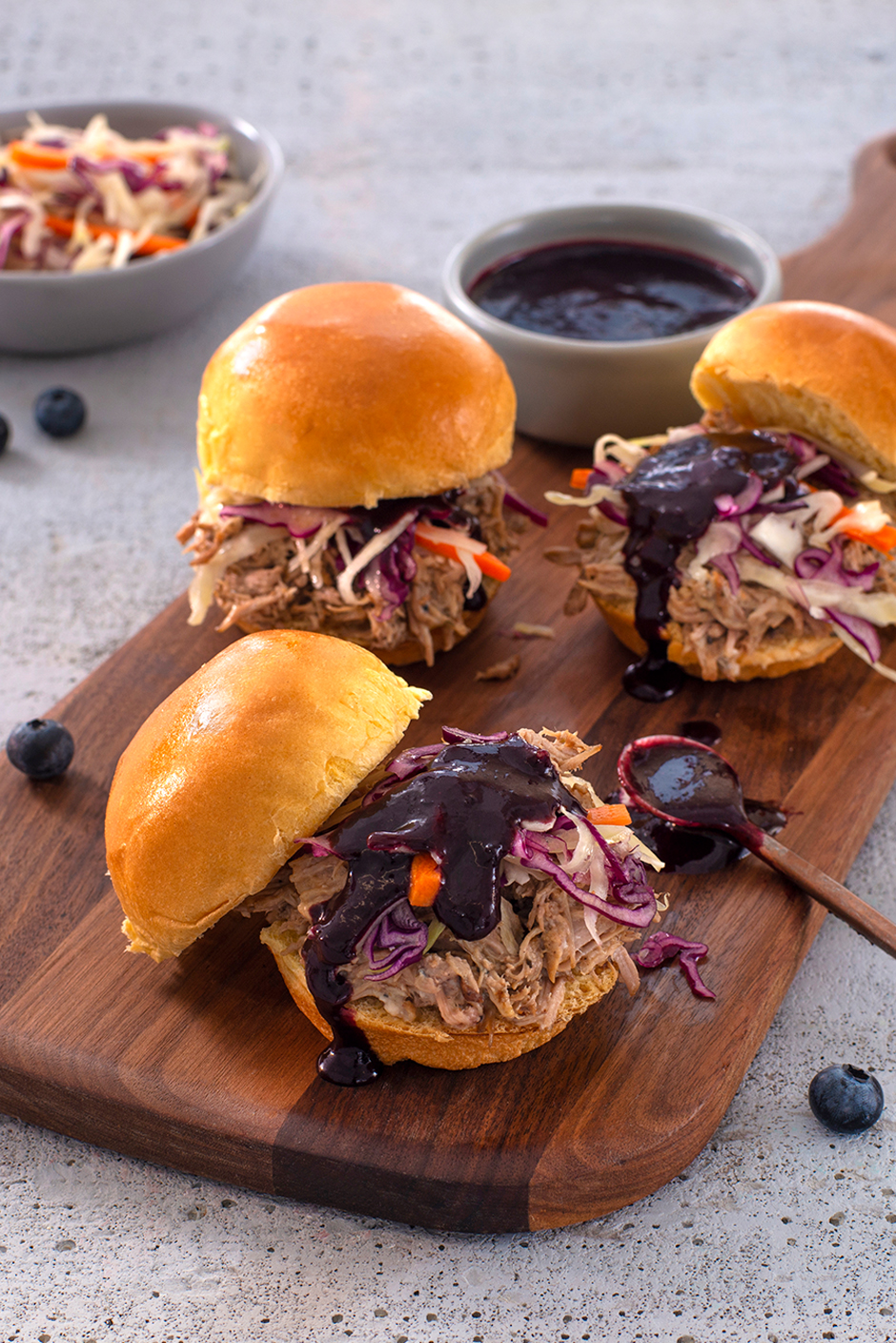 ---
Put these learnings into practice and grab a boost and GIVE* a boost with blueberries for National Blueberry Month! *You can help kids in need by sharing how you enjoy blueberries on social media. For each post you make tagging @blueberries in July, the U.S. Highbush Blueberry Council will donate $1 to No Kid Hungry. Join this meaningful 31-day challenge to feel good – and do good – with blueberries!