Contributed by Jessica Jones, MS, RD, CDE and Wendy Lopez, MS, RD, CDE of Food Heaven Made Easy in partnership with the U.S. Highbush Blueberry Council.
This post has been updated to include new information and recipes that align with the tips provided by Jessica Jones and Wendy Lopez, previous members of USHBC's Blue Crew of health & wellness experts.
---
As outpatient Registered Dietitians, we counsel hundreds of patients on how to improve their diets and overall health. Many come to us with questions on how they can prevent chronic disease, gain energy and feel great.
We've boiled down our four years of scientific nutrition training into five simple words: eat more plant-based foods.
That's it. Nothing complicated, nothing scientific, nothing you wouldn't be able to sustain for life. One of our favorite plant-based foods we recommend is blueberries.
---
How to Eat Blueberries More Often
Eating more fruits and vegetables means you are adding more fiber to your overall diet. And research suggests that diets rich in fiber-containing fruits and vegetables, like blueberries, can help us feel full faster, support a healthy gut and promote cardiovascular health.
Just one serving of blueberries can help you meet your daily fiber requirement – and you can feel good about eating blueberries everyday! They're both healthy and delicious – a true "boost" of blue. In addition to being a good source of fiber, blueberries also contain vitamin C and other valuable vitamins and minerals. One serving – which is 1 cup or about a handful – contains only 80 calories and is naturally low in fat and sodium. Here are 7 of the simplest, best ways to eat blueberries this summer (and beyond).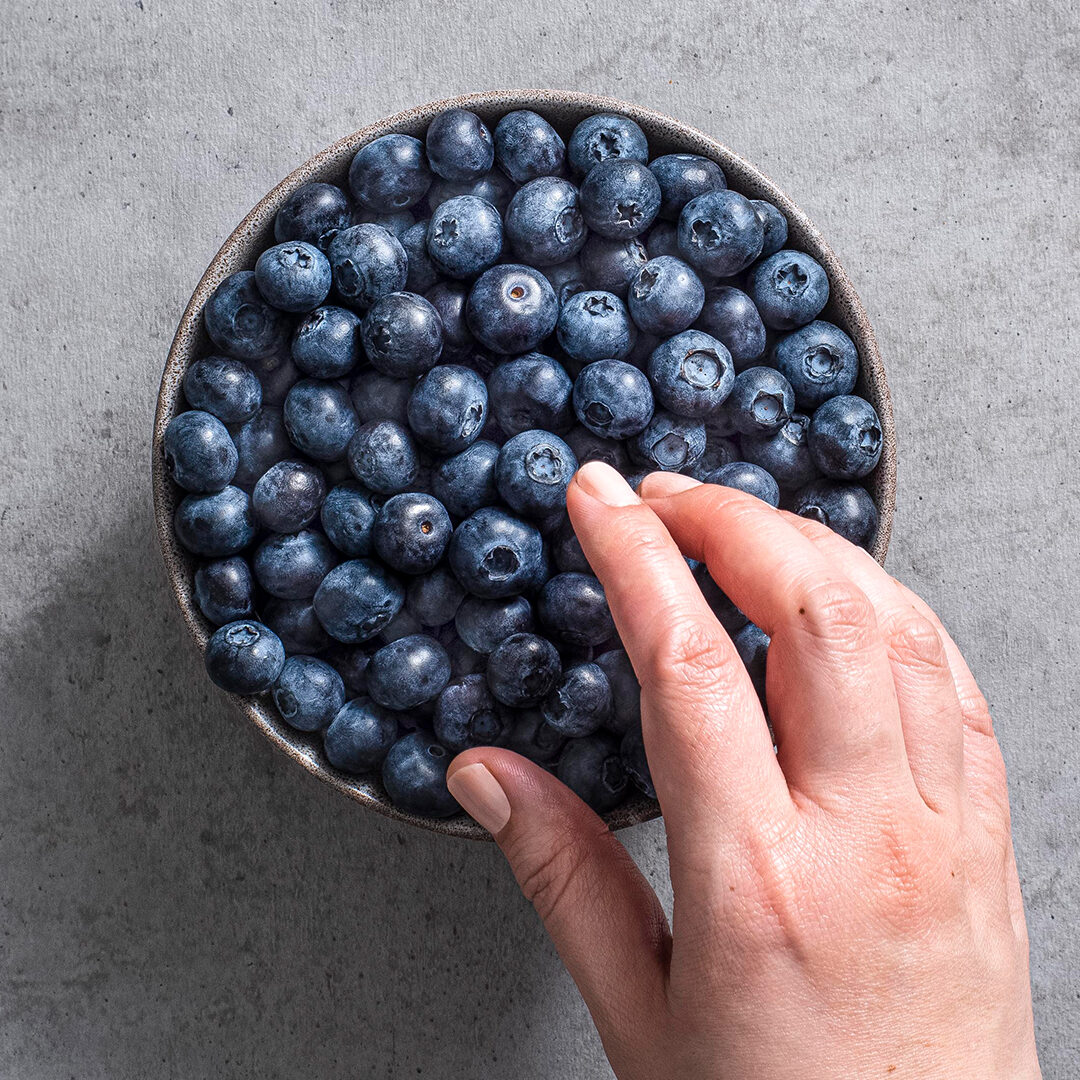 Eating Blueberries in Smoothies
Adding blueberries to your smoothie is a convenient way to eat more nutritiously. To make your smoothie balanced, we always recommend adding about 2 cups of vegetables for every 1 cup of fruit. If you are enjoying a smoothie as a meal (instead of a snack), balance it out with a serving of protein (Greek yogurt, protein powder, peanut butter or nut butter) and healthy fat (avocado, nuts, chia seed, flax seeds and nuts). You can find more inspiration in the Smoothie section of this site, including a Balanced Blueberry Smoothie, a Blueberry Pomegranate Smoothie and a Blueberry Basil Power Smoothie.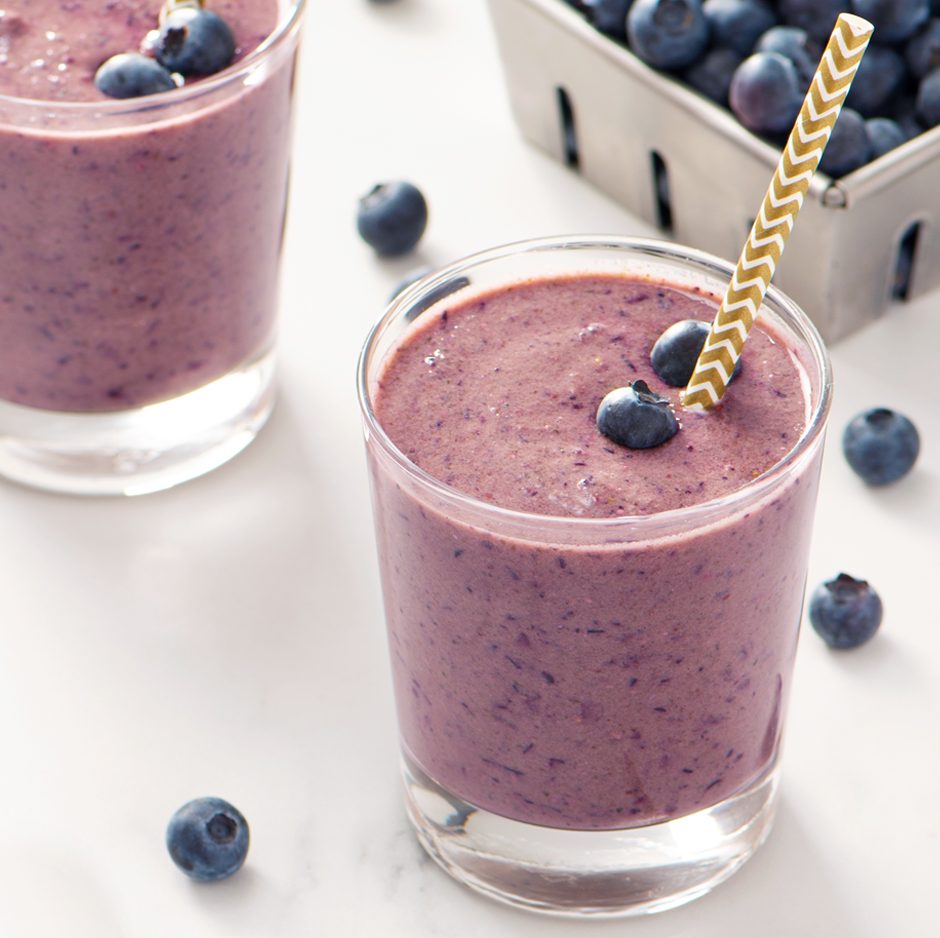 Eating Blueberries in Salads
Salads may not be one of the first ways to eat blueberries on your list, but we'd like you to reconsider. Blueberries add a subtle sweetness to any salad while boosting nutrition simultaneously. Need some inspo? Try these Blueberry Almond Chicken Salad Wraps or this Summer Fruit Salad with Jalapeno Mint & Lime. Or, if you are looking to give a traditional, store-bought dressing a boost of blue, this Blueberry Balsamic Dressing will do the trick. More salad recipes can be found in the Blueberry Council's recipe library.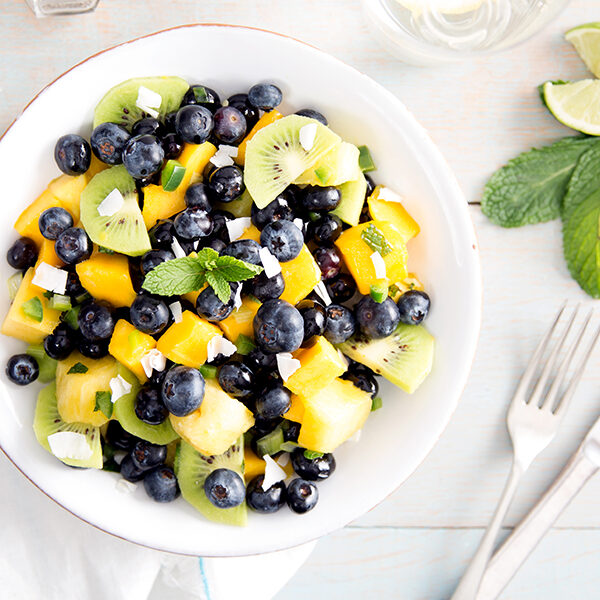 Eating Blueberries in Frozen Treats
Frozen blueberries are a good source of fiber, contain 4 mg vitamin C and are only 80 calories per cup. Many people don't realize that frozen blueberries are picked at the peak of freshness and individually quick frozen through a process known as "IQF." This helps to preserve their taste, durability and nutritional components – frozen blueberries taste great on their own! You can also try using them in a Blueberry Slushy, No-Bake Blueberry Coconut Energy Balls, or other recipes using frozen blueberries.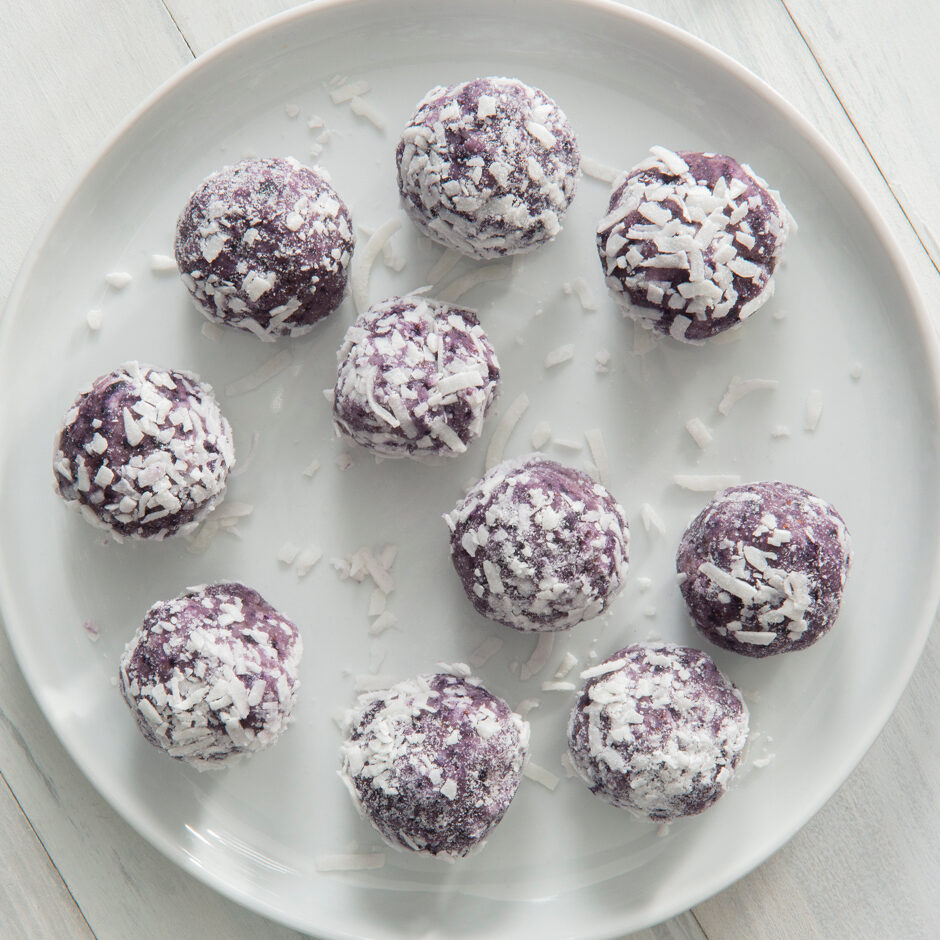 Eating Blueberries in Yogurt
Another tip for how to eat blueberries more frequently: add to plain yogurt to perk up the flavor! If you are wondering which type of yogurt is best, we typically recommend the plain Greek variation, because it has double the protein and half of the sugar, compared to its traditional counterpart. To spice up your yogurt even further, incorporate blueberries into a yogurt or coconut bark, such as this vegan Blueberry Coconut Bark that will blow your taste buds away. You'll want to make Triple Citrus Blueberry Frozen Yogurt Cups part of your daily routine, too.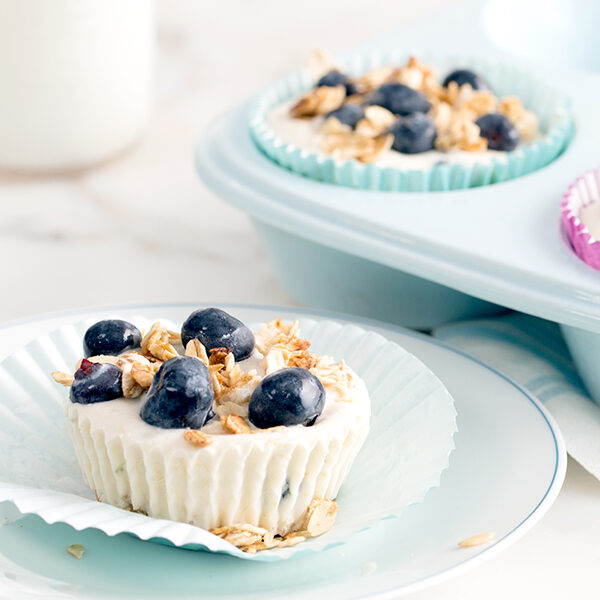 Eating Blueberries with Whipped Cream
Sometimes, eating blueberries everyday means mixing them with unsweetened whipped cream and sliced almonds. If you haven't been enjoying this treat for dessert, you should be. It is one of our favorite better-for-you desserts to recommend to our patients because it tastes fantastic and is super good for you. For our vegan friends, we recommend finding an unsweetened coconut whipped cream option. You can make it yourself or grab it from the freezer section of your local health food store.
Eating Blueberries in Ice Cubes
Want to add a little bang to any party – and sneak in another way to eat blueberries? Make simple blueberry ice cubes. It takes next to no time to prepare and guests are always impressed. All you do is add 2-3 blueberries into each compartment and then fill the tray with water. Freeze them up and when the ice cubes melt, guest are left with a sweet treat at the bottom of their glass. Or, for a slightly fancier version, try these minty fresh Blueberry Ice Cubes.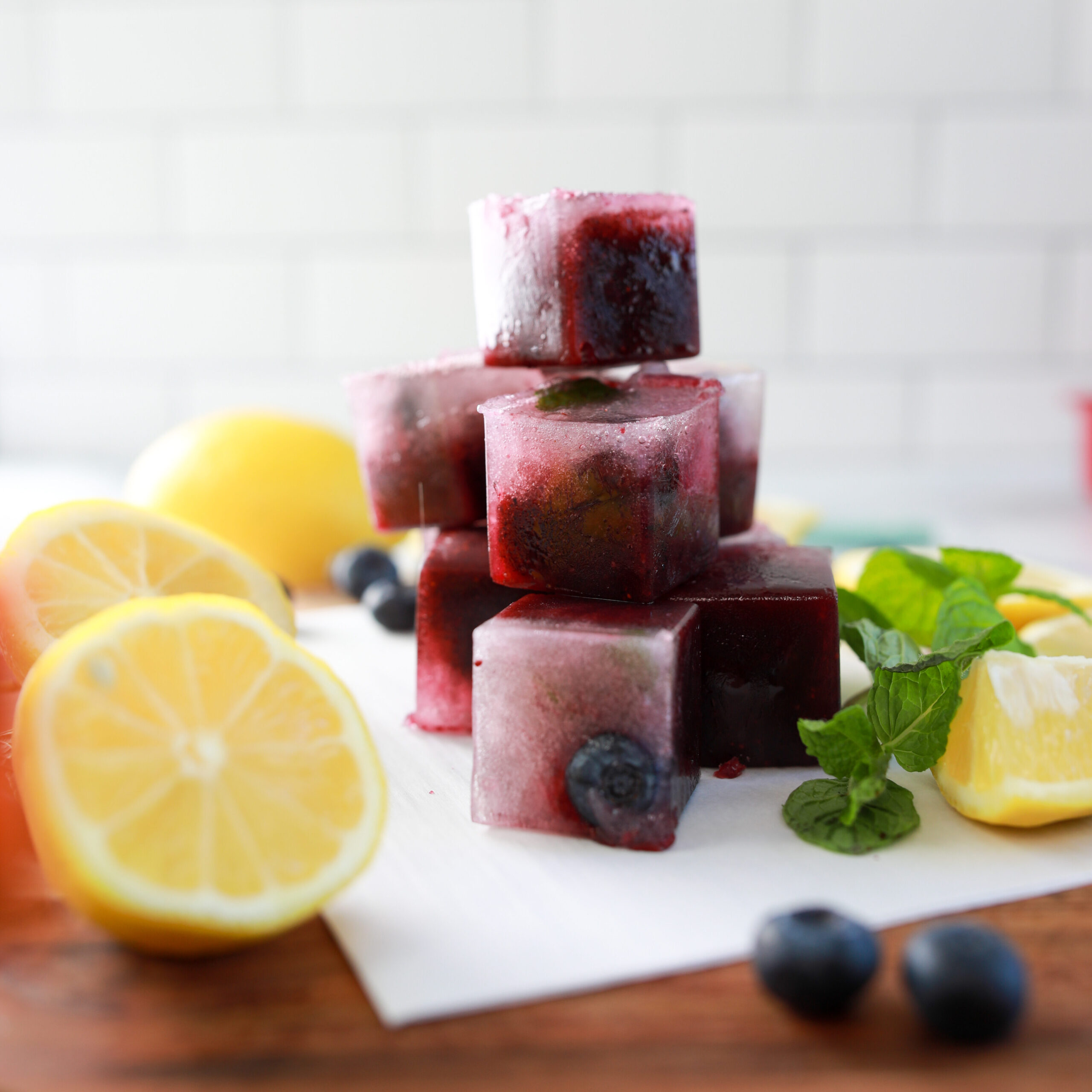 Eating Blueberries in Oatmeal & Cereal
Your favorite oatmeal or cereal offers one of the best ways to eat blueberries – giving you a serving of fruit and boosting your fiber intake. It's quick and easy! When adding blueberries to oatmeal, we like to cook them down on the stovetop first, and mix in a little bit of lemon, cinnamon, nutmeg and vanilla before topping onto the oats. This gives the oats a blueberry pie flavor that you will love. For a more portable option, there are always Easy No-Bake Glazed Blueberry Oat Bars!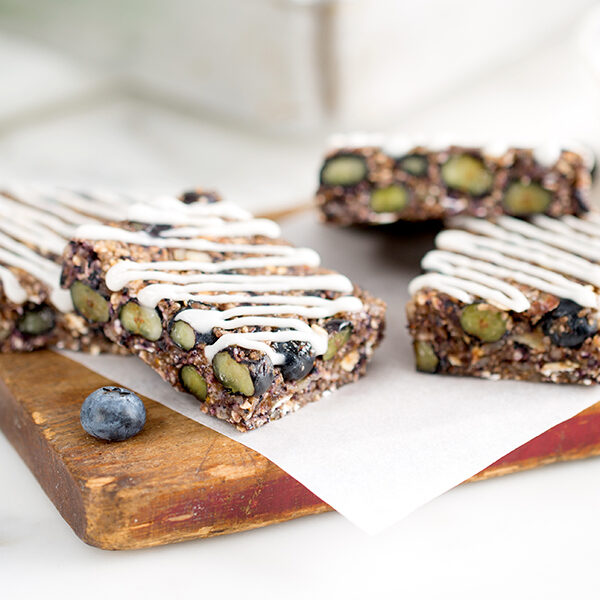 ---
Share Your Best Ways to Eat Blueberries
So, there you have it…7 simple tips for eating blueberries everyday. Looking forward to trying any of these? Tag your pics and social media posts with #boostofblue and @blueberries (Instagram, Facebook and Twitter) or @blueberrycouncil (TikTok). We'd love to know what you plan on whipping up! And, come back to this site often for blueberry health information, hacks, recipes and other delicious ideas on how to eat blueberries.