Have you looked at the calendar and done a double-take? Somehow, we're close to wrapping up another year, and we're feeling extra-grateful for all the people in our lives. It's time to show some appreciation – without overloading those extra-long holiday to-do lists.
We've got easy, gift-ready recipes and decorating tips for sharing joy this season, and you know the most delicious ideas come with a boost of blue! For the perfect finishing touch, our holiday recipe pages even feature a printable gift tag. Each festive tag links directly to the recipe, making it simple to enjoy blueberry goodness for years to come.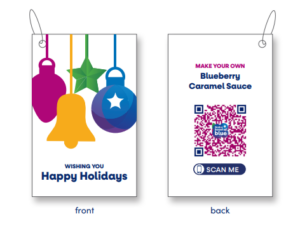 Happy holiday-ing! If you want to whip up a Blueberry White Hot Chocolate or Easy Blueberry Eggnog to enjoy while you work, well, we certainly won't mind. Some gifts you give yourself.
---
Spreading All the Cheer
As you celebrate the small wins or just take a moment to relax, these There's nothing better than starting your morning with a yummy boost of blue … though, to be fair, these breakfast all-stars With these blueberry jams and sauces, the lucky recipient can add a boost of blue to anything, from ice cream and cheesecake to iced coffee and pancakes. (And you can use the jam for the pretzel and fudge recipes below.) These gifts just keep on giving!
Blueberry Caramel Sauce
Homemade Blueberry Jam
Snack-n-Share
We recommend making a double-batch of these yummy recipes – the classic "one for you, one for me" strategy. Each makes a truly crowd-pleasing present or a snack you can keep handy.
Blueberry Chocolate-Covered Pretzels
Frosted Blueberry Snack Mix
Seasonal Sweet Treats
We'll keep it simple: these recipes taste like fall and happiness. You deserve nothing less! Enjoy by a fire, or as you admire the leaves, or even while sitting at your desk. Just delicious, cozy comfort When we say "treat yourself," we mean it literally. These blissful blueberry desserts are full of rich flavor – yet oh-so-easy to enjoy in small portions or on the go. Everyone deserves a delicious indulgence!
Chewy Blueberry Gingerbread Cookies
Blueberry Babka
Blueberry Pie Fudge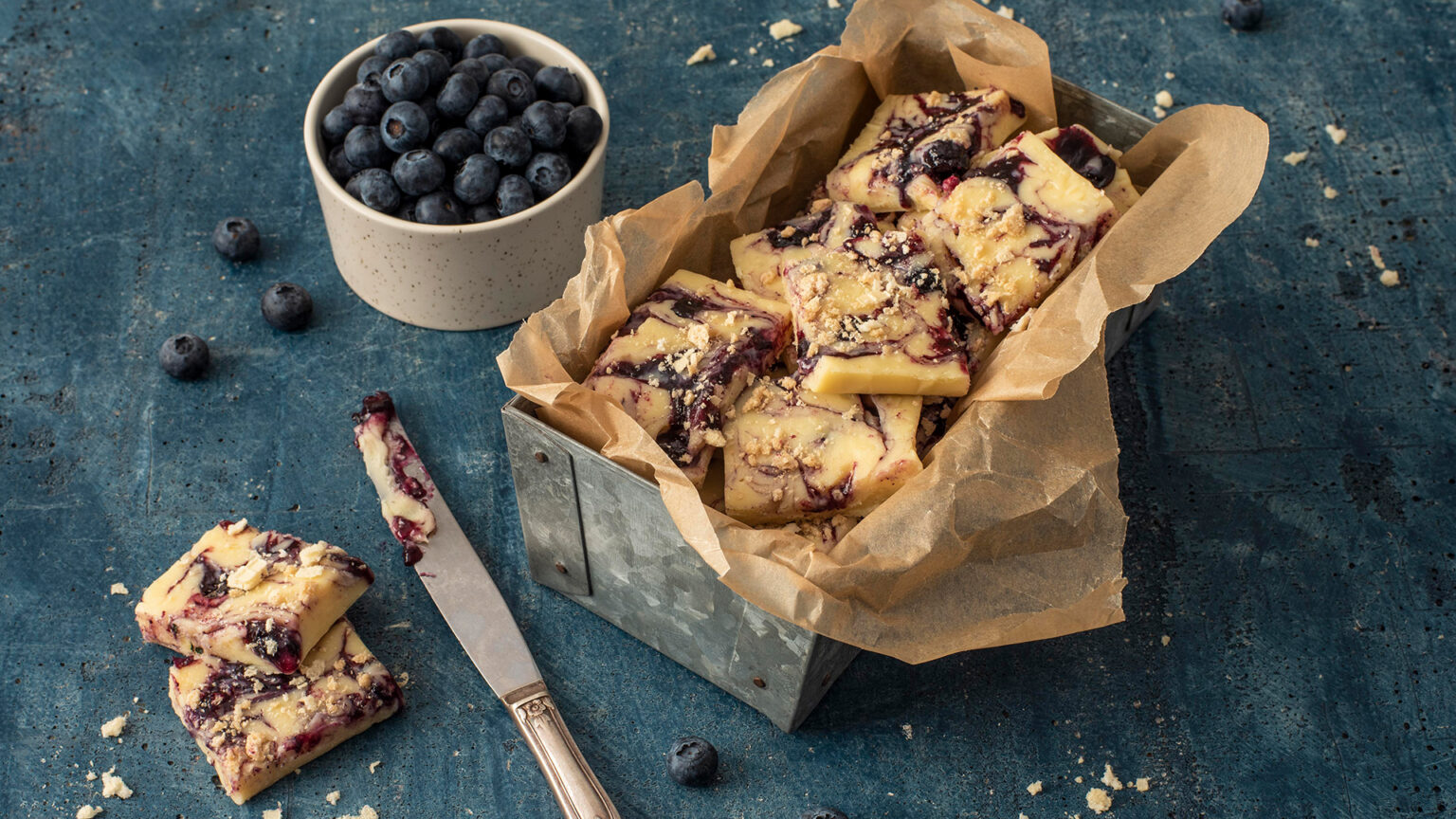 Low-Stress, High-Impact Packaging
Let's keep it real: we all need gift-wrapping techniques that save time and look amazing. These simple ideas are not just beautiful – they're functional for you and the lucky recipient of your time and talents. So thoughtful of you!
Reusable Containers: As part of the gift, send smaller treats in mason jars or other containers that can be washed and repurposed. Don't forget the ribbon and gift tag!
Double-duty Packaging: Parchment paper works equally well for wrapping and food storage. Decorate with stamps or stickers to add festive flair.
Natural Beauty: Greenery and flowers are an extra-special way to adorn your packages – use the real deal for the fresh scent or artificial for a little touch that lives on.
Sweet Simplicity: Cellophane + ribbon make an easy, classic packaging solution that shines the spotlight on your gift from the very start.
Pantry Staples: Do you use see-through lunch bags? They pair perfectly with recipes like our frosted snack mix. Warning: easy-to-see treats may disappear quickly!
---
It's officially all fall everything, and we're excited to see how you bring those boosts of blue! As you count down the days to 2022, don't forget to get your daily boost of blue! As you bake and make magic this holiday season, share pics on social media – and be sure to tag @blueberries and #boostofblue. We'll keep the blueberry recipes, tips and hacks coming to ring in a very happy new year.