As we give ourselves over to back-to-school season and all the fall feelings, we still have some summer blueberry business to conduct. July was an especially epic month full of boosts of blue, thanks to The Great Blueberry Recipe Showdown. We received more than 600 mouth-watering recipe submissions from blueberry fans across the nation! Read on for the list of winners – and exclusive access to three of the contest-winning recipes. Each boost of blue is a celebration!
School Yourself on Blueberries
Now that students are back in class, we just wanted to share a quick reminder: you can always enjoy Blueberry 101 here on this site! (You might find the occasional quiz, but we promise: no tests or essays.) You have 24/7 access to our recipe library and need-to-know information on our site about nutritious, delicious, fascinating blueberries.
Sitewide Boosts of Blue
This website is dedicated to celebrating all things blueberry, with information and insights to help you hone your skills as a blueberry aficionado. You can always find:
The Great Blueberry Recipe Showdown Winners
Now, let's wrap up The Great Blueberry Recipe Showdown. We received 624 recipe submissions from incredible blueberry fans, and it was not easy to choose between so many yummy treats. Milk Bar's Christina Tosi, our wonderful partner, took on the tasty task of judging! She identified five oh-so-deserving winners – one grand-prize winner, and one runner-up from each of the other four categories.
Congratulations to the winners – and thank you to all the blueberry fans who participated in the Showdown. Our community is a passionate and talented bunch, and it's a joy to see all the ways you enjoy a boost of blue!
Get ready, because we predict you'll make this grand-prize winning recipe over and over again this fall for tailgates, parties and just random nights when you're craving them. Congratulations to Thomas D., who won The Great Blueberry Recipe Showdown with this standout snack/appetizer. Sweet, savory and spicy, Blueberry Buenos Nachos are one memorable boost of blue!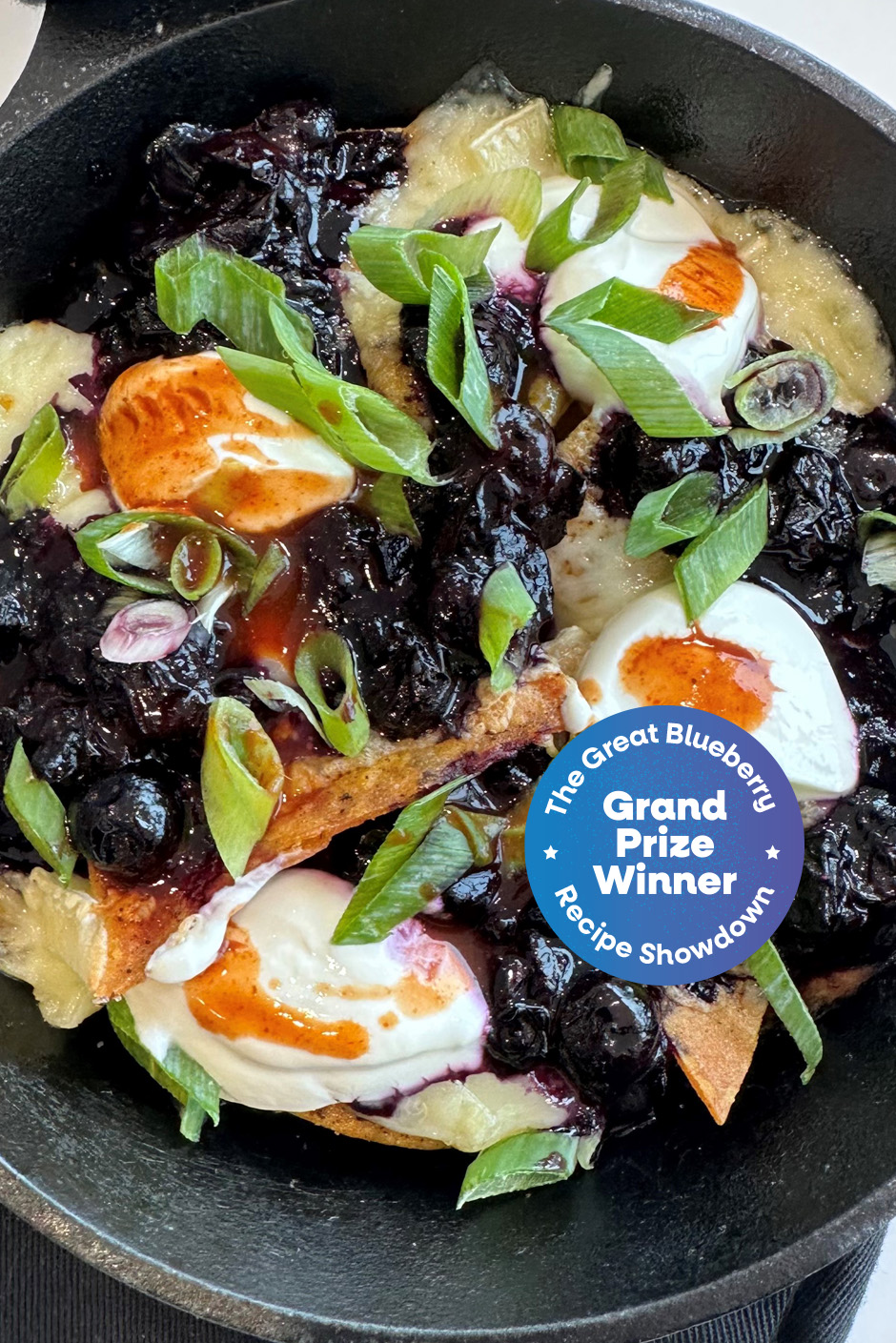 Submitted by Thomas D.
Grand Prize, Snacks/Appetizers
These Blueberry Buenos Nachos won The Great Blueberry Recipe Showdown, and it's not hard to see why – there's a party in every bite! The sweetness of the blueberry sauce pairs perfectly with the heat from the jalapenos (add more if you like extra kick) and chili powder-dusted chips. Brie and fontina cheeses add an extra layer of flavor and melty goodness, too. It all comes together in a crave-worthy dish you'll make again and again, whether it's for big gatherings or quiet nights at home.
Submitted by Kristin B.
Runner-Up, Dessert
Blueberry Salted Shortcake No-Churn Ice Cream is deliciously creamy and sweet, layered with blueberry ribbons and shortcake crumbs for texture. The blueberry swirls create a marbling effect that make this dessert as beautiful as it is tasty. Even better, no churn means no ice cream maker required – just assemble and freeze. You can even crumble store-bought shortbread cookies to save time. No matter how you scoop it, you'll love this refreshing boost of blue!
Submitted by Matt H.
Runner-Up, Breakfast
Don't choose between savory and sweet – these Blueberry Bacon Scones perfectly balance both! The smokiness of the bacon complements the sweetness of the fresh, juicy blueberries and warmth of the cinnamon. It's a one-bowl recipe that's easy to make and easy to love – even the blueberries go in whole. And, kids can help with stirring, kneading and spreading out the dough. Treat your whole household to a boost of blue, fresh out of the oven!
Runners-Up: Berry Good Burgers and Blueberry Cheesecake Spiked Milkshake
Congratulations also to Kerry D., the runner-up for Lunch/Dinner for the aptly named Berry Good Burgers, and to Doug M., the runner-up for Mocktails/Cocktails for the yummy Blueberry Cheesecake Spiked Milkshake. Both recipes will be featured in the future – stay tuned!
---
Keep Those Boosts of Blue Going
You never have to wait for blueberry goodness – visit this site often for new blueberry recipes, health information, tips and more! We update with all kinds of blueberry ideas and inspiration throughout the year. If you want to share more about your kitchen adventures, just tag your pics and social media posts with #boostofblue and @blueberries (Instagram, Facebook and Twitter) or @blueberrycouncil (TikTok). We love to see how you're grabbing a boost of blue each day!