Boosts of Blue for All Bakers
No matter what your baking experience or skill level, there are blueberry recipes for you to try and love!
For beginners, start with blueberry muffins or a crisp – both are as forgiving as they are tasty. More experienced bakers might take it to the next level with a blueberry pound cake or scones. Expert bakers can experiment and customize any recipe, but it's also fun to show off your techniques in recipes such as blueberry pastries or meringues.
---
Blueberry Distribution: No Sinking, No Problem
If you've ever baked with blueberries, you probably know they can sink to the bottom of the pan. It creates a tasty blueberry burst, but sometimes you just want that even distribution throughout! Here are a few simple ways to get a consistent boost of blue throughout your dish.
Avoid over blending during the first stage of mixing, which can lead to thinner batter and sinking berries.

Coat blueberries with flour or cornstarch before stirring them into the batter.

Spread half of your batter in the pan, then add half the blueberries. Spread the remaining batter on top, then top it all off with the remaining blueberries.

Try substituting dried blueberries for a different approach – they stay in place, maintain a more structured texture and are less likely to burst when hot.
Dishes that Look as Good as They Taste
When you're baking with blueberries, you know you'll get something delicious – but those boosts of blue can look different from dish to dish. These techniques will help you achieve the aesthetic appeal you prefer.
Minimize streaking by gently folding blueberries into your batter at the end of the mix cycle.

Stop color leeching and streaking by adding frozen blueberries to your batter before they have a chance to thaw, then baking your dish immediately.

Prevent your batter and baked goods from turning a purple-blue hue by rinsing frozen blueberries several times in cold water until the water becomes lighter in color. Then pat them dry on a paper towel and fold into your batter gently.

Brighten your overall blueberry hue (if you want to bring out the blue tones) by adding a little lemon juice to your mixture.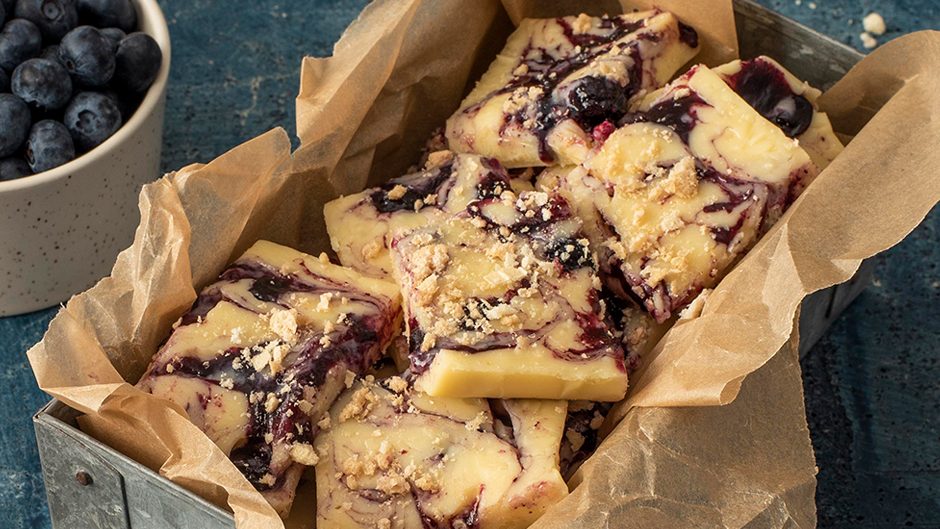 Get the recipe for Blueberry Pie Fudge
Blueberry Baking Chemistry
The secret to beautifully colored berries in baked goods or smoothies? Believe it or not, it's the pH scale. Blueberries turn reddish when exposed to acids, such as lemon juice and vinegar. Blueberries turn greenish-blue in a batter that has too much baking soda (or grey in a smoothie with a lot of dairy), which creates an alkaline environment. That's why mixing a little lemon juice into your batter or smoothie will give you a more vibrant color.
---