Happy Labor Day Weekend and Smoothie Saturday, everyone! On this lovely long holiday, we think everyone should take the time to sit back, relax, and enjoy something you truly love – in smoothie form, of course! Since we're mad about blueberry baked goods, we're digging into these Blueberry Muffin Smoothies from  Imma Eat That. Who's with us?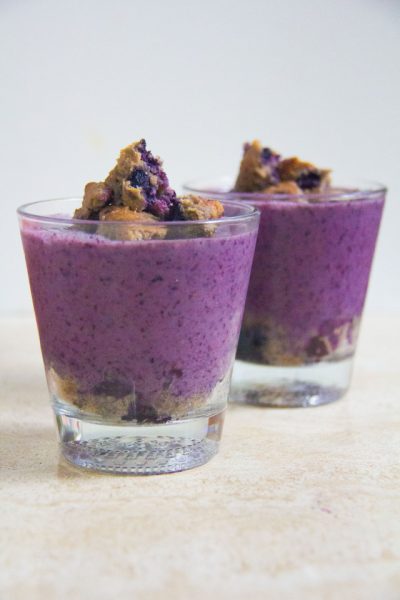 1 frozen banana
1/2 cup frozen blueberries
1 cup milk (or almond milk)
1/8 teaspoon vanilla
1/8 teaspoon cinnamon
Crumble 2 blueberry muffins into large crumbles. Push some of the muffin crumbles into the bottom of 2 glasses. Set aside.
Add banana, blueberries, milk, vanilla and cinnamon to a blender. Blend until smooth. Divide the smoothie between the 2 glasses. Top with remaining muffin crumbles…and of course, add in a fun straw.
Serves 2